Best turtle aquariums: Set up a perfect turtle tank
The best turtle aquariums help you to create the ideal conditions for your cute reptile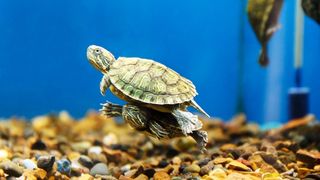 (Image credit: Getty Images)
Buying one of the the best turtle aquariums isn't simply a case of finding a tank and popping your reptile pal inside. Although turtles are small, it's really important that they have sufficient room and an environment geared towards their needs. That means providing them with light, warmth and clean water as well as the perfect habitat. It won't be cheap but it's the only way of keeping a turtle healthy and happy.
With that in mind, we take a look at an amazing set of options: aquariums that, in some cases, provide everything you need and those that will get you off to a good start. At the very least you're going to be looking for a sturdy tank with lots of room to explore, so work out the necessary size, measure your turtle and go for a tank that is at least five times its length and three times its width.
Now take that length and times it by 10 gallons (so a five-inch turtle will give you 50 gallons). That's the water capacity you should be aiming for and it doesn't harm to go a little bigger. Indeed, this is the bare minimum because it's so important that your turtle doesn't feel stressed by being placed in a cramped tank. They are aggressive swimmers and they need to feel as if they can complete lengths with ease. Enable them to do so.
Since turtles are cold-blooded, they also need your help to keep warm. Optimum pet turtle care involves giving them the same conditions as they would in the wild so the water in the tank has to be between 77 and 80 degrees Fahrenheit (25.5 – 26.6 Celsius). On top of that, you need to provide a basking area placed under a UV light to assist with their metabolism. The light is a substitute for the sun and, so long as it provides both UV-A and UV-B, your turtle will also gain enough vitamin D for a healthy shell and strong bones.
Not that turtles always want to be exposed. They like to hide from view and you need to give them a place to conceal themselves. This is simple enough because there are lots of accessories you can buy (just be sure to factor them in when sizing the tank). It's also a good idea to include space for them to eat as well but remember: what goes in has to come out again!
In fact, turtles produce a lot of waste – much more than fish. To ensure the tank doesn't become overly dirty and to prevent you having to change the water daily, it's crucial that you invest in a filter. This will help avoid your reptile pal from becoming ill, with the general rule being to go for a large canister filter. A lot of the tanks we've looked at come with filters, though, making life a little easier. Let's see what's on offer.
PetsRadar's pick of the best turtle aquariums
Why you can trust PetsRadar Our expert reviewers spend hours testing and comparing products and services so you can choose the best for you. Find out more about how we test.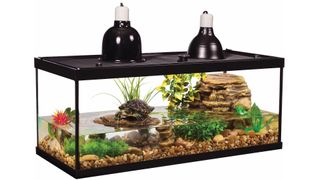 Tetra Aquatic Turtle Deluxe Kit
Best overall turtle aquarium
Reasons to buy
+
Complete package
+
Decorative filter
Reasons to avoid
-
Lack of tank decoration
-
For small turtles only
Turtle aquariums are not simple. To make sure they are kept healthy and happy, you need all the right components. Rather than spend time trawling the web or stores looking for all the parts, it is well worth considering a starter kit, especially if this is your first time with a turtle.
The Tetra Aquatic Turtle Deluxe Kit provides everything you need to give your turtle a happy home. The kit includes a 20-gallon tank, which is ideal for small aquatic turtles. If you have a larger turtle or more than one, you should think about getting a bigger tank. A decorative filter (with three cartridges) is included to make sure that the water is kept clean via its three-stage filtration process. The beauty of the filter is that it blends in with the habitat. It is hidden inside the basking platform, and creates a beautiful waterfall.
Keeping the water and environment at a constant temperature is crucial for a cold-blooded reptile. To ensure that your shelled buddy is a happy one, the starter kit includes a couple of dome lamps. These are incorporated into the screen top to help maintain a constant temperature. Make sure you place the basking platform under the UV light to create a prime spot for your turtle. The kit also includes a boxwood plant mat. This is ideal when starting out, but you may want to consider more decorations once your turtle has settled in.
All living creatures need food, and the kit includes the essentials, so you don't need to worry what to feed your turtle. Finally, your aquarium will need a place to call its own. This should be away from a source of heat or direct sunlight, and will need to measure at least 30 inches wide x 12 inches deep x 12 inches tall to accommodate the Tetra tank.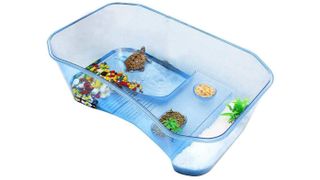 Hamiledyi Turtle Aquarium Tank with Platform
Best budget option
Reasons to buy
+
Cheap
+
Lightweight
+
Multiple color options
Reasons to avoid
-
No tank decor
-
No lamp or filter
If you are just looking for a tank without the accessories then this offering is a great place to start. The Turtle Habitat Terrapin Lake Reptile Aquarium Tank doesn't come with any filters, heat lamps, or food. It is just a tank, and is a great budget option. It is ideal for those who have a small turtle – ideally up to 2.5 inches in length – and already own a heat lamp and water filter. Just make sure that your lamp and filter are compatible with the tank.
The tank is lightweight, weighing in at just 110 grams, and made from strong, durable plastic. It is kidney shaped, with a host of turtle-friendly shapes and areas molded into the bottom of the tank. The design has five different areas. There is the docking ramp area, a basking platform, feeding trough, breeding hibernation area, and swimming area. The bottom of the tank provides a small swimming area and a non-slip ramp that leads to the other areas. This helps ensure that your buddy doesn't keep slipping back into the swimming area.
At the top of the ramp there is a small feeding area and a basking platform. There are a few small plant decorations included, but you will need to get your decorations to make the tank more appealing for the turtle and you.
The tank comes in a trio of colors: blue, black, and clear. The blue option is the most expensive , with the black being the cheapest. But in reality, the price difference between all three choices is minimal.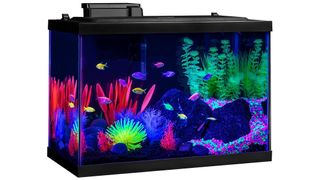 GloFish Aquarium Kit Fish Tank
Best LED aquarium
Specifications
Capacity:
3, 5, 10, 20 gallon
Size:
24.2" x 12.5" x 16.2"
Reasons to buy
+
Neon lighting
+
Multiple size options
+
Includes water heater and filter
+
Fluorescent decor
Reasons to avoid
-
No UV lamp
-
No basking platform
The GloFish aquarium kit is primarily aimed at those who want to keep tropical fish, but it contains almost everything you need for a turtle.
So what's in the kit? First, there is a 20-gallon glass aquarium, which is ideal for small turtles; then there is a Tetra mini UL heater to keep the water temperature at the right level, and to ensure that the tank stays clean, there is a Tetra Whisper 20 filter.
In addition to the essentials, the kit comes with a GloFish 13" LED light stick, one GloFish yellow anemone, and two plant multipacks. This gives the tank a little decoration, but it's not just your standard decor. The fluorescent decor and LED lighting creates a colorful neon display. It's ideal in darker rooms, and if you don't want the neon display on, you can simply switch it off. There is also fish food included. While you can feed turtles fish food, it doesn't give them all the nutrition they need. It will need to be supplemented with the right food.
As we mentioned before, the GloFish contains 'almost' everything you need. The kit is missing a UV lamp and a basking platform, which are essential for any turtle aquarium. What this does mean is that you can customize the habitat's decor, and get the exact basking platform that you want for your turtle. One good example is the TetraFauna Viqaquarium all-in-one land and water environment. Want to know more about the Viqaquarium? Read more about it in this buying guide.
There are smaller sizes too, including 10, 5 and 3-gallon options, and an upright portrait option if you have a small turtle. Even so, we recommend the large option if you need growing room.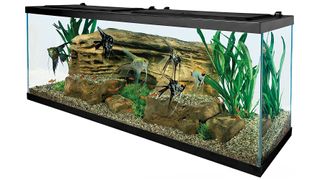 Tetra 55 Gallon Aquarium Kit
Best large aquarium
Specifications
Size:
51.9" x 24.4" W x 16.4"
Reasons to buy
+
Large capacity
+
200W heater
+
Detailed instructions
Reasons to avoid
-
Heavy
-
Limited tank decoration
The larger an aquarium, the more space your pet turtle will have, and the happier they will be. Plus, a large aquarium allows for growing room, and even the addition of more turtles in the future.
This kit has a large-capacity tank that can hold up to 55 gallons of water. As you might expect, a bigger aquarium takes up more space than a smaller aquarium. So you will need to make sure you have enough space for the tank. It measures 51 inches in length (that's over four feet), and is 24 inches wide and 16.4 inches in height. It weighs in at a heavy 521 pounds when filled with water, and that's without any additional gravel or decor. So you will need a sturdy platform to hold the tank.
So what else is included in the kit? There is a powerful 200W heater that will heat up the water and keep it at a steady temperature. To ensure that the water temperature is at the right level, there is a stick-on digital thermometer. Another addition to help keep the temperature constant, and stop anything falling into the aquarium, is a Tetra hinged hood. This comprises two hoods, giving easy access to both ends of the tank. These also help keep the heat in. To keep the water clean – and your turtle healthy – there is the quiet and economical WPF 60 Filter.
The decor is a little sparse, consisting of two plant multipacks and a boxwood plant. Notable by their absences are an environment to occupy your pet turtle, or a platform to warm itself. This is something you will need to purchase to complete the setup. Once you are up and running, the included lighting adds a natural daylight effect. This means you get an illuminated view of the entire aquarium.
Finally, for peace of mind, the aquarium comes with an easy-to-understand set-up guide, which has plenty of tips and pointers on how to get started.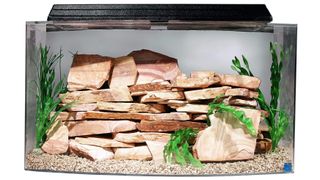 SeaClear Acrylic Aquarium Combo Set
Best acrylic aquarium
Reasons to buy
+
Super-strong construction
+
Lightweight
+
Convex shape
Reasons to avoid
-
Expensive
-
Few accessories
-
Not for beginners
Your standard turtle aquarium is typically rectangular in shape. There are different options out there – hexagon and portrait, for example – but these are typically built for fish, although can be used for very small turtles. If you want a turtle aquarium that stands out from the rest then this acrylic aquarium from SeaClear brings with it some features that you won't see on cheaper aquariums.
The aquarium is made from acrylic, which means that it is over ten times stronger than glass. A sturdy strong construction is something that every aquarium needs to have. This also brings with it several bonuses. Acrylic offers a clearer view than glass tanks, and is more impact-resistant than glass. This means it is a safer option than glass, and is less likely to crack, chip, or leak if it takes a heavy hit or gets dropped.
Another big plus for the acrylic aquarium is its weight, which is less than half that of a glass tank. At 20 pounds it is relatively easy to pick up and carry for a large-capacity tank. It boasts a convex shape at the front, which enhances the view with its almost invisible seams. The SeaClear package includes the aquarium, a reflector and an electrical 24" light fixture, which is compatible with any T8 or T12 24inch fluorescent tube.
The SeaClear doesn't come with any land/water environment (that is ideal for aquatic turtles), water heaters, heat lamps, or decor. This will mean extra expense on top of the aquarium. It also means that you get to choose the accessories and decor. This allows you to create the perfect environment for your hard-shelled buddy.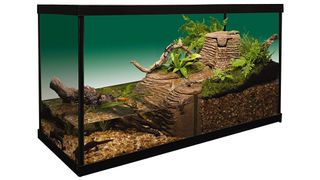 Best aquarium accessory
Reasons to buy
+
Multiple basking areas
+
Realistic habitat
+
Waterfall
+
Hidden filter
Aquarium kits are great for those who are new to keeping turtles. They contain all the necessary gear that you need to give your buddy a happy home. However, with a ready-made one, you get little choice of the environment or how the turtle's habitat will look and work.
The alternative is to purchase all the gear you need separately to get a more customized aquarium. As we have already mentioned, turtles are cold-blooded and need an environment where they can come out of the water, breathe, and bask in the warmth of a heat lamp.
The TetraFauna Viqaquarium is an all-in-one land and water environment that is ideal for aquatic turtles. It converts an ordinary aquarium into an aqua-terrarium. This is a combination of an aquarium and terrarium, which effectively means that it has a dry land part and a water section for swimming, making it perfect for transforming any aquarium into a habitat that is perfect for turtles.
The Viqaquarium boasts three realistic land areas that will allow your turtle to warm up. There is one high area and two lower areas allowing your hard-shelled buddy to choose where they want to hang out. The high area has a cascading waterfall feature hidden inside. This is powered by the Tetra Whisper filtration system, which ensures that the water is kept clean. The waterfall flows into a riverbed that links to the other basking areas to create a more natural environment.
The Viqaquarium will fit into most 20-55 gallon aquariums, and can be placed to the left or right of an aquarium. This brings a bit of flexibility to a turtles habitat, which will help keep them happy and, of course, healthy.
How to choose the best turtle aquarium
When choosing an aquarium for your pet turtle, there are a number factors to consider, but perhaps the most important is the tank size. Turtles come in many different sizes, so here's a quick guide to help you choose the right size tank. Multiply the length of your turtle by ten, and this equals the capacity you need. For example, if your turtle is two inches long, multiply that by 10, and you get 20. So a 20-gallon tank is your ideal choice. If you are thinking of having multiple turtles in a tank, you may want to go larger. Alternatively, get more than one aquarium.
When a tank size has been decided, you need to think of all the necessary equipment to go with it. You will need water heaters, heat lamps, water filters, thermometers, lighting, and tank decoration. If you are a beginner at keeping turtles then a starter kit such as the Tetra Aquatic Turtle Deluxe Kit is a no-nonsense option. It has a decent size tank and all the extras you need to get started straight away. Alternatively, if you don't want to spend too much money then the Turtle Habitat Terrapin Lake Reptile Aquarium Tank is really cheap, but you will need to buy heat lamps and water heaters.
If you want a bigger aquarium then the Tetra 55 Gallon Aquarium Kit is a great choice. But be aware that this is not a small tank – it's over four feet in length, so you will need plenty of space for it. It doesn't come with much in the way of a basking platform or decor, so you might want to add the TetraFauna Viqaquarium. This offers a realistic land and water environment, comes with a water filter, and fits most 20-55 gallon tanks.
If you want something a little more fancy then try the GloFish Aquarium Kit Fish Tank, which has a fluorescent decor. Or why not have a look at the SeaClear Acrylic Aquarium Combo Set. This aquarium is stronger and lighter than a glass tank, and its convex shape offers better view of your turtle.
\Whatever you choose, make sure that your turtle has enough room, an area to bask in, a constant water temperature, and a water filter to keep the aquarium clean, and your turtle happy.
Get the best advice, tips and top tech for your beloved Pets
Steve Jenkins is a freelance content creator and long-time journalist with more than 20 years in the industry. He has written for numerous titles covering tech to pets, with his latest faithful hound always by his side. When not walking his dog, or discussing who's best - cats or dogs? Loud guitars, AFC Bournemouth, Photoshop, and trying to save the world take up the rest of this time.