17 star-studded pets to name your new cat or dog after
It can be difficult to find the perfect name for your new furry friend, so we've turned to film, TV and books to help you choose a star-studded pet name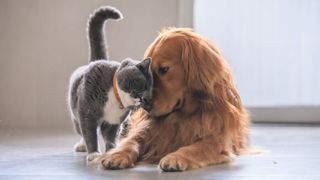 (Image credit: Getty Images)
As a potential new pet parent there are so many difficult decisions to make. From choosing your breed to deciding between adoption or rescue, picking out your new feline friend or canine companion isn't easy. And that's before you factor in the most difficult decision of them all — naming them!
A name is an important thing and you want to be able to rest easy that whatever name you choose to call your pet feels like the right fit. Whether you find yourself in the midst of learning how to stop a dog pulling on a leash or you're keen to figure out how to play with a cat correctly, you're going to be using your new fur friends name a lot for training and play purposes, so choosing a name you feel comfortable with is a must.
If you're an avid devourer of books, films, and TV shows where animals serve as central to the plot line, then you may well be keen to name your new pet after one of your favorite characters. If that's the case, you're going to love what we have in store for you below because we've pulled together the best dog and cat names from both screen and print to give you a helping hand. Read on to see who made the A list!
Eight star-studded cat names
1. Duchess — the Aristocats
For those with a gorgeous white cat, you really can't go wrong with the name Duchess. Elegant and refined, she is the female lead of the 1970s Disney classic The Aristocats. While cats are known for their grace and elegance, Duchess takes this to the next level with unrivaled poise, making this a great name for any prim feline in your life.
2. Berlioz — the Aristocats
The perfect name for a gray cat in our opinion. While this name is a nod to the great French composer of the 1800s, Berlioz the cat was one of Duchess' children in the film The Aristocats. He is a sooty gray color and wears a red ribbon around his neck (he is also a musical genius like his namesake but that might be a little harder for your average kitty.)
3. Salem — Sabrina the Teenage Witch
Known for his quippy lines, Salem is a character from Sabrina the Teenage Witch, named after the place in Massachusetts that's associated with the famous witch trials. He has had many incarnations across the Sabrina comics and TV shows, but he always appears as a midnight black cat. He has yellow gold eyes and a bit of an attitude, so if you're looking for a good name for your dark prince, Salem might be a perfect fit!
4. Simba — The Lion King
Of course Simba is a lion, not a cat, but that isn't a difference that cats seem to observe, so neither shall we. If you've got a cat with the heart of a lion then naming them after Simba, king of the Pride Lands and hero of the Disney classic The Lion King, might be a good choice. Whether you love the original 90s animation, or the more up to date 2019 release, this name is a classic for cats of any size, shape and color.
5. Felix — Felix the Cat
For those with a black and white cat (also known as tuxedo cats), you can't go wrong with a classic like 'Felix'. A cat from the silent film era of the early 1900s, he is an unmistakable anthropomorphised cartoon cat who gets into all sorts of trouble and hijinks (as we know all cats are prone to do).
6. Crookshanks — Harry Potter
If you have an orange tabby cat, or a cat with slightly bandy legs then Crookshanks is the obvious choice of name. Crookshanks appears in the third book and film, Harry Potter and the Prisoner of Askaban, as Hermione's new pet. Despite being very large and smelly, Crookshanks is helpful to Harry and his friends and highly intelligent, so If you've got a particularly clever orange cat then consider naming them Crookshanks.
7. Tao/Sassy — Homeward Bound: The Incredible Journey
If you have a Himalayan or Siamese cat and want to give them the name of a timeless heroine, we humbly suggest naming them Tao (or Sassy). The 1961 book The Incredible Journey by Sheila Burnford, and the 1963 film (and 1993 remake), retitled Homeward Bound, feature a plucky cat as part of the timeless trio. Depending on which version you watch, Tao may be a darker type Siamese cat or a sarcastic Himalayan that was rechristened Sassy.
8. Garfield — The Garfield Comic Strip
Another perfect name for an orange cat, particularly one who is a little chunky and fond of their meals and nap time. Garfield rose to fame in the widely published 1970s newspaper comic strip by Jim Davis, with further exposure in the 1980s animated series Garfield and Friends. He has since had his own movie which came out in 2004 and an animated series, The Garfield Show, more recently. If you do choose to call your new cat Garfield, there's also endless merchandise you can buy with the famous kitty's face on it, from slippers to backpacks.
Nine famous dog names
1. Bodger/Chance — Homeward Bound: The Incredible Journey
Another name and breed that was changed between the 1961 and 1993 iterations of Homeward Bound was Bodger, an older character and the leader of the group who became Chance in the newer release. In the original version he is an elderly Bull Terrier, as he is described in the book, but in the 1993 film he is a young American Bulldog. If you have either breeds, or a white mix, you can't really go wrong with either moniker if you want your canine friend to have a heroic namesake.
2. Luath/Shadow — Homeward Bound: The Incredible Journey
The final name change between the two Homeward Bound films, Luath was more like Disney's bulldog Chance in the original book, a young Labrador Retriever always getting into trouble. In the 1993 film, Shadow is an older, wise Golden Retriever who leads the trio across the wilderness and back home. Either name would be fantastic for a yellow dog, so we suggest you let their personality dictate which one you choose.
3. Lady — Lady and the Tramp
If you have a female Cavalier King Charles Spaniel or a Cocker Spaniel this is the perfect name for them. Lady is the sweet protagonist of the 1955 Disney film Lady and the Tramp, where she embodies all our favorite characteristics of spaniel breeds: loyalty, love and no small amount of bravery. While Lady starts out life as a pampered pet, she ends up on the streets by accident and has to learn to rough it with some of the toughest dogs around.
4. Pongo or Perdita — 101 Dalmatians
The obvious choice if you've adopted a Dalmatian, you can't really go wrong naming your new dog after the hero or heroine of Dodie Smith's 101 Dalmatians. This is another story that has been adapted many times, most recently delving into the story of the primary villain, Cruella. Whether you love the 1961 animation or the 1996 live action remake (starring the wonderful Glenn Close), there are lots of names to choose from with so many puppies running through the pages and across the screen.
5. Old Dan and Little Ann — Where the Red Fern Grows
If you've picked a hound type, you really can't go wrong with naming them after the heroes of the book and film Where the Red Fern Grows. An American classic, and one I'm sure many of us remember reading in school, Where the Red Fern Grows features two Coonhounds, a type used across the country to hunt raccoons. Coonhounds are a type of dog, rather than a breed, according to the Encyclopedia Britannica, and are often a bloodhound and foxhound mix.
6. Toto — the Wizard of Oz
The perfect name for a terrier, Toto was arguably the star of the Wizard of Oz, coming with Dorothy on her adventures across the magical land. In the 1939 film, Toto was portrayed by a Cairn Terrier, a coarse-haired and endearing breed. However, we think that the name suits all small dogs: from Yorkshire or Skye to the West Highland terrier — little dogs with a big heart embody all the characteristics of Dorothy's Toto.
7. Lassie — Lassie Come Home
The perfect name for a rough collie (or any collie really), Lassie is a highly intelligent dog who has been brought to the silver screen many times over the years with several adaptations of the 1938 book by Eric Knight: Lassie Come-Home. Whether you like the animated series, the older classic movies from the 1940s, or the 1950s series, Lassie is probably the best known dog we've included in this list, and a great legend to give your new pup.
8. Barkley — Sesame Street
While it's not clear what breed Barkley is, we'd like to think he's either an old English Sheepdog or a spaniel of some sort. The long hair over his eyes is very sheepdog, but the blenheim coloring is very Cavalier King Charles, so we aren't entirely sure. Regardless, Barkley is a great name for any Sesame Street fan, although a name you might want to avoid if you believe in nominative determinism (the theory that we're psychologically predisposed to pursue interests that resemble our name in some way).
9. Timmy — The Famous Five
Timmy was a fully-fledged member of the Famous Five, a series of children's books by Enid Blyton. Timmy, or Timothy, gets the other four members of the gang out of several scrapes across the 21 books, and although he belongs to the character George, he becomes firm friends with all of the children. Still fantastically popular today, these classic children's stories could be a good place to start if you're looking for a name for your Border Collie.
Looking for more great pet content to help you through the first year of your new fur friend's life? Then be sure to check out our guides to bringing home a puppy for the first time and newborn kittens: A vet's guide to care.
Get the best advice, tips and top tech for your beloved Pets
Lou is an experienced writer and keen dog lover who works at PetRadar's sister site, LiveScience. When Lou isn't covering health and fitness, she's busy spending time with her family dogs or growing all kinds of veggies and flowers on her allotment.