Five human foods that are poisonous to cats: What to avoid
By Steve Wright
Which human foods are poisonous to cats? Find out which ones you should steer clear of…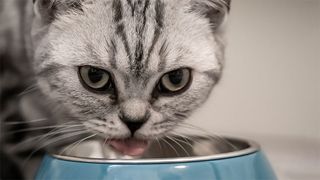 (Image credit: Image by birgl from Pixabay )
There are some foods that are poisonous to cats, but it's not always obvious which ones. There's a good chance that you might have let your cat lick your plate clean, or giving them a small piece of what you're having. No judgement here – most of us have probably done it at some point.
As with all good intentions, however, it might not be the best thing for them. Cats' digestive systems are much more sensitive than ours. In the worst-case scenarios, eating food they shouldn't could cause problems with internal organs, and possibly even death. If you want to err on the side of caution, stick to cat treats and cat food. If you want to know where to start, why not read our guides to the best wet cat food, the best dry cat foods and the best cat food.
Anyway, here are five foods that you should make a point of not feeding to your cat...
1. Milk: The cat who got the cream won't be so smug for long
The image of a satisfied cat lapping up a saucer of milk is an enduring one, but what's depicted rather less in story books is the often rather less appetizing aftermath. Stomach problems, such as diarrhea, are a common result of cats consuming dairy products due to their lactose intolerance, so while they might enjoy a bowl of the white stuff, it's best to avoid giving them some. Even at birth, kittens seldom drink their mother's milk for more than a couple of weeks, so reintroducing them to lactose isn't the best idea.
2. Chocolate: A treat for humans, but potentially a tragedy for felines
Tempted to share a bit of cake or ice cream with your furry friend? Don't. Chocolate contains a component called theobromine that is toxic to cats (dark chocolate is especially bad, since it contains a higher percentage).
Potential symptoms include heightened thirst, vomiting, diarrhea, lethargy and muscle tremors. Longer term (24-72 hours after ingestion), hyperthermia and/or pancreatitis may result. So even if they seem really eager (cats like the taste of chocolate), resist your cat's charms. You won't be doing them any favors.
3. Alcohol: Yep, sadly we do have to say this
Some of the other food choices can be forgiven as a matter of ignorance – we're going to assume that any ingestion of alcohol on your pet's part is either an accident, or abject stupidity. The effects of alcohol on a human are pretty clear to see, so imagine the impact on a cat, which isn't exactly equipped with the right digestive setup to cope with it. Obvious side effects include lethargy, labored breathing, and impacted coordination, but beyond these, there is the potential for falls in body temperature and blood sugar levels, as well kidney and liver damage.
4. Onions: The root of (some) problems for cats
Leaving out scraps of unfinished dinner for your cats isn't a great idea at the best of times – and it's even worse if these leftovers happen to contain onion remnants. Also found in some types of baby foods, onions (and most root veg, in fact) attack the red blood cells, breaking them down and causing anaemia and lethargy. These in turn can potentially prove to be fatal symptoms. It's best to steer clear of these particular roots, then.
5. Coffee: Vital for humans, not so much for cats
We may rely on caffeine to power us through the day, but cats can most definitely do without it. Thanks to the presence of methylxanthines (which also makes chocolate a no-go area), coffee should be kept away from cats. Small amounts shouldn't cause serious harm, but larger quantities (found in tea bags and coffee beans) could result in some side effects. These include hyperactivity, vomiting, tremors, and seizures, as well as elevated rates of blood pressure, temperature and heart rhythm.
If in doubt, call the vet
To summarize, definitely do not give any of these foods to your cat – if you are currently doing so, please stop. Make sure any leftover meals containing these products are either disposed of, or kept firmly out of your cat's reach (if they're great at jumping then be even more careful). If you think your cat may have consumed some of the above foods and/or are displaying symptoms consistent with having done so, please contact your local vet immediately.
Steve has combined editing and writing for publications like SciFiNow, How It Works and All About History with being a doormat to various cats and dogs. He lodges with two moggies called Giles and Willow, and will be told off if he doesn't mention his girlfriend's magnificent pooch, Toby.
Get the best advice, tips and top tech for your beloved Pets
Thank you for signing up to Petsradar. You will receive a verification email shortly.
There was a problem. Please refresh the page and try again.