Fanfare as Trumpet the bloodhound crowned as Westminster Dog Show winner
This year's Westminster Dog Show winner is an adorable Bloodhound called Trumpet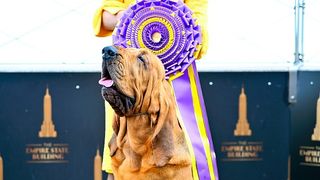 (Image credit: Getty)
Hounds all over the States have got something to bark about as Trumpet the Bloodhound took the trophy as Westminster Dog Show winner Wednesday night. The dynamic doggo not only romped home in the Hound group at the prestigious 146th Westminster Kennel Club Dog Show, but went on to take the coveted Best in Show prize too.
Bloodhounds are one of the oldest breeds of dogs that hunt by scent, and the breed has been recognized by the American Kennel Club since 1885. Their origins go back much further though, and they're thought to have been bred in the 7th century by a French monk named Hubert. They were also extensively used in the Middle Ages as hunting dogs. In modern times, their gentle and affectionate nature can make them good family dogs, although they have an independent streak too. Trumpet is the first ever Bloodhound to make Westminster Dog Show winner.
Four-year-old Trumpet is owned by Chris and Bryan Flessner, Tina Kocar and Heather Buehner. Heather handled him on the day and helped him to victory, beating over 3,000 other dogs of various breeds. According to the American Kennel Club, handlers play a vital role in a dog's success. They must have a strong bond with their dogs, which will help the dog feel confident and engaged while competing. A good handler can also help their dog to show himself off to best advantage with the aid of a few treats and some expert leash work!
The show, which is the second longest running continuous sporting event in the US, started on Saturday with the Masters Agility Championships. For the second year running, the event was held at the Lyndhurst Estate in New York rather than Madison Square Garden, a change made due to Covid concerns.
Beside Trumpet on the podium was Reserve Best in Show Winston, a French bulldog and winner of the Non-sporting category. Other class winners were Holly wood the Maltese (Toy category); River the German Shepherd (Herding category); Belle the English Setter (Sporting category); Striker the Samoyed (Working category) and MM the Lakeland (Terrier category). Previous Westminster Dog Show winners include a wide variety of breeds such as Pekinese Pequest Wasabi (2021) and Standard Poodle Stone Run Afternoon Tea (2020).
Trumpet (whose full name is the imperious-sounding GCHB CH Flessner's Toot My Own Horn) appeared delighted with his success and was pictured kissing handler Heather on the Best in Show podium.
Despite all the razzamatazz, proceeds from the show go not to the winners but to charities such as shelters and training organizations. Trumpet may only be in it for the glory, but we hope he got a whole heap of treats too for being this year's Westminster Dog Show winner!
Get the best advice, tips and top tech for your beloved Pets
Sara is a freelance journalist and copywriter of many years' experience with a lifelong love of animals. She's written for a range of magazines and websites on subjects varying from pet care to travel. A horse rider since the age of five, she's currently a full time pet slave to horse Blue and gorgeous, goofy English Springer Spaniel Olly. Adorable Olly has a huge sense of adventure and no sense of direction, keeping Sara on her toes.