Adorable springer spaniel shows people how to wear a face mask
Patient puppy brings smile to people's face as he demonstrates how to properly protect yourself from coronavirus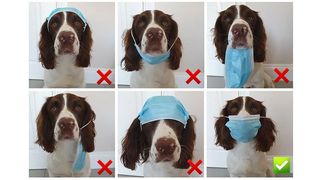 (Image credit: Instagram: @oakleybear___)
Do you get annoyed when you see people out and about wearing a face mask, but aren't doing it properly? Shannon Nightingale, the owner of gorgeous springer spaniel Oakley, was, and so she decided to do something about it. Fortunately, her well-behaved puppy was on hand to help her out in her mission, and was willing to model the do's and don'ts of mask wearing...
She uploaded the picture to Oakley's Instagram account and to her local springer spaniel group, and from there his picture has been shared many thousands of times.
As he says on his Instagram post, "My mum says I know hows to wear face masks better than hoomans." And he has clearly demonstrated that this is true in this photo montage, where the patient pooch showed all the ways masks shouldn't be worn – under the chin, leaving the nose uncovered, on the top of his head – before ending with the correct way.
What's amazing is how Oakley struck the same pose for each picture, and Instagram reacted incredibly favorably to his advice. As Shannon told the Derbyshire Times: "All the messages we've received have been positive saying he is so beautiful, how he is so good for sitting still in each picture, and even think it's funny as a lot of people agree that they have seen all the different mask styles Oakley is trying out.
"We wanted to put a smile on people's faces as we're all going through this difficult time together, so I'm happy he has brought so much joy to everyone who has seen his post."
And as it did bring a smile to our faces, we're happy to share his message so it can do the same for you too.
Get the best advice, tips and top tech for your beloved Pets
Jamie Middleton is a freelance editor and writer who has been editing and creating content for magazines and websites for over 20 years. As well as writing about the pets he loves, he has helped create websites about tech and innovation like TechRadar.com, Innovate UK and TechSPARK, written programmes for music festivals, books on inventions and architecture, TV listings magazines, and edited publications about cars such as Lexus, Toyota and Jaguar. In his spare time he writes fiction books and poetry - or at least he does when he is permitted to by his cat Pirate, who enjoys the warmth of laptops too much to allow being creative to get in the way.