Afghanistan animal charity races to get dogs, cats and rescue staff out of the country
"I'm not leaving without my staff and animals" says former Royal Marines Commando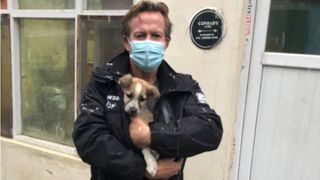 (Image credit: Instagram / @nowzadrescue)
The situation in Afghanistan is one of turmoil and terror as the Taliban take over town after town, but ex-Royal Marines Commander turned animal savior Pen Farthing doesn't plan to leave Kabul just yet.
Not unless he can rescue the 71 staff and 200 animals that comprise the animal rescue charity he set up almost 15 years ago.
After a failed attempt to leave where his wife was crushed in the crowds trying to get to the airport, Pen has returned to his house in the Taliban-controlled city and continues to run the animal center until they can find a way to leave.
Pen is worried that all members of the charity's staff "face the most horrendous future I wouldn't wish on anyone" now that the Taliban had "moved in next door".
The idea for his animal charity was created after Pen befriended a dog he saved from a dog fight in Helmand Province. He went on spend the following six months with his new doggy companion and at the end of his tour he planned to bring the dog back with him to the UK.
The difficulties he had in doing so, and the many animals he saw in distress on the streets, led to him creating the charity animal organisation Nowzad in Kabul, Afghanistan in 2007. Since then he has spent his time highlighting the welfare of dogs, cats and donkey in the region, and has reunited 1,600 servicemen with the cats and dogs they had befriended while in the country.
There's no doubt that Nowzad has been a force for good - they've rehomed 1700 animals and his clinic trained Afghanistan's first fully qualified female vets – and Pen doesn't want to throw it all away by abandoning his animals and staff to their fate.
After setting up a fundraiser called 'Operation Ark' to charter a plane and get the necessary visas to be able to leave the country, the response to the charity's plight has already been overwhelming. He has raised more than £200,000, but says he is still waiting for anyone from the UK government to contact him to start evacuation proceedings.
In a video on the Nowzad website, Pen said: "I don't have words for the love being shown to the Nowzad team. We've had some amazing messages of support." Farthing is still urging people to keep the fight alive by contacting their MPs and ministers. "The Nowzad team does not deserve to be abandoned," he said.
To see how you can help, and to keep up with this unfolding story, check out Nowzad's Facebook page.
Get the best advice, tips and top tech for your beloved Pets
Jamie Middleton is a freelance editor and writer who has been editing and creating content for magazines and websites for over 20 years. As well as writing about the pets he loves, he has helped create websites about tech and innovation like TechRadar.com, Innovate UK and TechSPARK, written programmes for music festivals, books on inventions and architecture, TV listings magazines, and edited publications about cars such as Lexus, Toyota and Jaguar. In his spare time he writes fiction books and poetry - or at least he does when he is permitted to by his cat Pirate, who enjoys the warmth of laptops too much to allow being creative to get in the way.