Alaska Dog and Puppy Rescue: helping find forever homes
The Alaska Dog and puppy rescue organisation work hard to save canines from certain death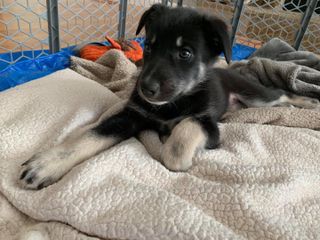 (Image credit: ADPR)
Founded in 2003, the Alaska Dog and Puppy Rescue (ADPR) is a volunteer organisation based in Wasilla, Alaska, that was originally set up to help solve the overpopulation problems in the Mat-Su Valley area.
It's believed that approximately 3.3 million dogs go into animal shelters across the United States every single year.
Of this figure, around 670,000 canines are sadly euthanized. This could be due to the shelter being overcrowded or, in some cases, because the animal is aggressive, sick, injured, or already suffering from something else.
Thankfully, Alaska Dog and Puppy Rescue think differently when it comes to euthanizing dogs in shelters.
Since setting up two decades ago, ADPR has rescued and placed (on average) more than 500 dogs every year.
The dogs and puppies that Alaska Dog and Puppy Rescue put up for adoption are ones that they have rescued from various shelters, animal control centres, villages, and bush communities around the state of Alaska, which would have most likely been euthanized.
ADPR operates to serve the community. They help pet owners, fosters and future dog owners by taking in canines that are no longer wanted or must be surrendered for various reasons, as well as place pooches with foster families whilst awaiting for their forever homes.
The organisation also accepts any unexpected and unplanned litters to ensure that those pups are given the best lives possible with their new families. Of course, when owners find themselves in this situation, the organisation will help prevent this scenario from occurring again in future by spaying the mother.
Every animal that arrives at the centre is spayed and neutered, as well as being microchipped and confirmed as being up to date with all of the necessary vaccinations. This is the only way to make sure that, when the time comes, they are ready for their new adopted family without any delays getting in the way.
Since its launch, Alaska Dog and Puppy Rescue has relied on volunteers to operate successfully. From helping out at the adoption clinics and answering the phones, to assisting with canine transportation and, of course, fostering the dogs.
To help individuals and families become fosters, ADPR provides them with the correct food, veterinary care, and any other supplies needed to care for their foster dog or puppy. All the foster owner needs to provide is a safe and loving environment for the dog or puppy to thrive in before they are adopted.
This organisation makes it a priority to never house the dogs or puppies in a shelter or kennel once they have been rescued. The primary focus is to reintegrate them into a safe and welcoming setting, in which they are treated like one of the family. Foster pooches also receive one-on-one attention and any further training that they may need.
ADPR also relies on donations from the public and, as well as accepting financial donations, they are grateful to receive: towels, blankets, collars and leashes, dog food and toys, puppy pens, dog kennels, paper towels, and bleach. Any donation, great or small, goes a long way in their mission to save as many dogs from being euthanized as possible.
The Alaska Dog and Puppy Rescue Facebook page is dedicated to finding a forever home for each and every canine that comes into their care. It is updated on a regular basis with pictures and brief descriptions of the canines currently looking for a foster or forever home.
But you must be quick if you want to get involved!
Within hours, amazing individuals are putting their name forward to foster and adopt some of these incredible dogs and puppies.
Every Saturday of each month, any dogs and puppies that are available for adoption are taken on an exciting trip to one of ADPR's adoption clinics in the hope that one of the potential adopters attending the event will want to take them home after meeting them.
At an ADPR Adoption Event earlier this month, a beautiful puppy named Zuri (aka Darla) was adopted by NaDene Silva: "We are smitten with her! Thanks for a great event! We are absolutely in love with her!"
Another gorgeous pup was taken home by Abigail Dove: "I got my new best bud there today! Thanks! He is just perfect!"
To find out more, visit their website or their Facebook page.
Get the best advice, tips and top tech for your beloved Pets
Chloe is a freelance writer, editor, and proofreader, who has more than ten years' experience in creating animal-focussed content. From National Geographic to Animal Planet, Chloe's passion for creating fact-filled features all about wildlife and the environment is evident. But it's not just wild animals that Chloe's fascinated by. Having written more than 75 articles for PetsRadar - and having her very own four-legged friend by her side - it's no wonder that her love of dogs (and, of course, cats) has grown exponentially.
Her website, www.chloemaywrites.com, and social media pages - @ChloeMayWrites on Instagram, Facebook, and Twitter - showcase her knowledge through daily facts and trivia tidbits. For example, did you know that snails have teeth?!