Baby tiger strikes up unlikely animal friendship with puppy
The unlikely animal friendship between baby tiger Hunter and playful puppy Chelsea is proof that love knows no bounds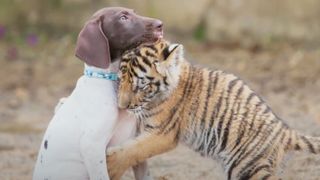 (Image credit: YouTube)
Everybody needs a best friend in life to get them through the hard times and for baby Bengal tiger Hunter, forming an unlikely animal friendship with German Pointer puppy Chelsea has helped him to do just that.
Separated from his mother after she began behaving aggressively toward him, Hunter was taken in by The Farm Inn Hotel and Wildlife Sanctuary in Pretoria, South Africa where he quickly bonded with keeper Anthea Michaletos' puppy Chelsea.
"We currently have a baby tiger, he's almost three months old now and his name is Hunter," Michaletos says. "And I have a puppy, a German Shorthaired Pointer, she's about four months nearly and her name is Chelsea. They seem to really enjoy one another."
While the separation from his mother was difficult for Hunter, his friendship with Chelsea is not only providing him with love, affection, and companionship but is also helping him to learn the vital skills his mother would have taught him.
"Well, there's a lot of wrestling involved and a lot of stalking," explains Michaletos. "So you can see from his natural instinct that if she runs away from him, he's immediately crouching down and almost trying to surprise her. She's a hunting dog, so it's quite interesting to watch - she stalks him right back, which is quite a cool concept as you don't really see that with dogs."
As the only cub in his litter, Michaletos says it's important that Hunter has someone around his age that he can play with. The two bonded immediately and have remained firm friends, with both finding it hard to be apart. While the friendship has been wonderful for both Hunter and Chelsea, Michaletos knows that someday soon the two will need to be separated for Chelsea's protection.
"Hunter doesn't take his claws out. He does bite but not really hard so you can see they care for each other. But I think on six months from Hunter's side will be enough for them, that's when they get quite boisterous and almost play a bit too hard."
While the two will have a hard goodbye to endure, for now, this sweet duo is enjoying every minute of the precious time they have left together.
Kathryn is a freelance writer who has spent the past two years dividing her writing time between her two great loves - pets and health and wellness. When she's not busy crafting the perfect sentence for her features, buying guides and news pieces, she can be found hanging out with one very mischievous Cocker Spaniel, drinking copious amounts of Jasmine tea and attempting to set numerous world records for the longest ever FaceTime calls with her family back home in NZ.
Thank you for signing up to Petsradar. You will receive a verification email shortly.
There was a problem. Please refresh the page and try again.