Behaviorist reveals top 3 breeds for your first dog
Will Atherton, a Canine Behaviorist and Instagram-famous dog trainer lists the best breeds for first time owners in his experience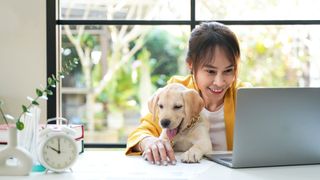 (Image credit: Getty)
For first time dog owners, choosing a breed can be difficult, particularly when there's so much misinformation and conflicting arguments online about which are the best small dog breeds for kids or which are easiest to train.
Will Atherton (known as iamwillatherton on Instagram) is an accredited dog trainer and canine behaviorist with a 125K following on Instagram. His videos on Instagram and YouTube offer insights into dog behavior and training that can help you build a better relationship with your dog.
Atherton outlines his top three breeds if you're a first-time owner and orders them by size: from a toy breed to a larger dog depending on your lifestyle and the space you have on offer.
Atherton starts by singing the praises of the Cavalier King Charles Spaniel, a toy breed described and sporting, affectionate and fearless by the Kennel Club. If you have a smaller home, these dogs are small and fairly low energy, meaning they are good for fitting around your lifestyle and don't require hours of exercise to keep them healthy. They are also very trainable, which Atherton adds makes them great for first time dog owners.
Second on his list is the medium-sized Labrador Retriever, considered by some to be America's favorite dog, it has held the top spot in the American Kennel Club's most popular breeds since 1991. Atherton stipulates that you should look for a show line retriever not a working or gun dog, as show line dogs tend to be more relaxed with a lower prey drive. This is another breed that's great with children, but requires a little more exercise than a Cavalier King Charles, requiring 2 hours a day.
Finally, for those looking for a large dog, Atherton recommends the Newfoundland, a water dog originating in Canada and an intelligent and trainable breed. The Newfoundland was originally bred to work with fishermen, but their friendly, gentle nature makes them perfect family dogs and a great first time pet for those with the space to keep one.
Will is the author of the best selling book 'Raising and Training Perfect Puppies - The Missing Secret To Success' and has built the world's largest online dog training platform with his company Fenrir Canine Leaders, helping hundreds of thousands of dog owners across the world. Will has the most subscribed to and viewed channels in the UK for balanced dog training with over 500,000 subscribers and over 50,000,000 views on YouTube alone.
Thinking of getting your first dog? Check out the best puppy toys to keep them entertained.
Get the best advice, tips and top tech for your beloved Pets
Lou is an experienced writer and keen dog lover who works at PetRadar's sister site, LiveScience. When Lou isn't covering health and fitness, she's busy spending time with her family dogs or growing all kinds of veggies and flowers on her allotment.