Behaviorist shares a simple but effective solution for teaching your puppy to behave better on the leash
Grab some puppy food and get ready to show your four legged friend how to walk nicely by your side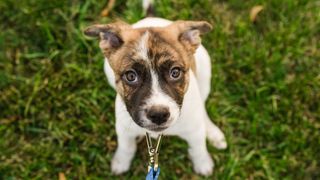 (Image credit: Getty)
Learning how to train a puppy to walk on a leash isn't as simple as it sounds but we ought to cut the little ones some slack. They're new to the world and understandably excited to sniff out and explore their surroundings. However, the sooner you're able to show them how to behave well on a leash the better you will set them up for good leash walking when they grow up.
While the best puppy toys provide a great form of stimulation for your puppy, they can distract your dog from focusing on you on walks. Instead, Andrew Lang, owner and trainer of Paws in Nature training recommends having a pocket full of treats when teaching your pup to walk nicely.
Lang illustrates in a video shared with Tiktok exactly how puppy owners can create a training structure that will teach their puppy to stay right by their heel while walking on a leash.
Rather than use food as a means to bribe your pooch into doing as you say, you are going to use the treats as a way to show them that good behavior gets a reward.
The easiest way to first practice this training solution is in your home or somewhere where there are no distractions. There is no use in throwing your puppy into the deep end where outdoor noises, people and other dogs can overstimulate them.
Then you will essentially walk a very short distance, place food at your shoe, move again, place food at your shoe and so on and so on. Lang says, "I want it to be very very structured in the sense that she catches my foot up and a piece of food gets handed to her. We turn and then we feed. We turn away and feed."
The idea is that the puppy is getting attached to being at your heel and this should help to deter them from always pulling ahead. You can gradually extend the distance to take the training further. Teaching your puppy this lesson shows them the value of being next to you and it also means you don't have to apply lots of pressure to the lead.
One dog owner shared in the comments section of Lang's video that they managed to nail this training solution indoors but it's a whole other story when they try to practice it outside with their puppy. This will most likely be the most challenging part for many other puppy owners. Try and find quieter areas outside to practice this training and don't get frustrated if it doesn't go to plan. Your puppy is young and still adjusting to the outside world.
Want to learn more about raising a new pup? Stick around and learn how to train a puppy not to bite or read up on this vet's guide to puppy shots.
Get the best advice, tips and top tech for your beloved Pets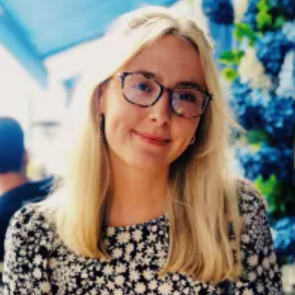 With over a year of writing for PetsRadar, Jessica is a seasoned pet writer. She joined the team after writing for the sister site, Fit&Well for a year. Growing up with a lively rescue lurcher kindled her love for animal behavior and care. Jessica holds a journalism degree from Cardiff University and has authored articles for renowned publications, including LiveScience, Runner's World, The Evening Express, and Tom's Guide. Throughout her career in journalism she has forged connections with experts in the field, like behaviorists, trainers, and vets. Through her writing, Jessica aims to empower pet owners with accurate information to enhance their furry companions' lives.