Covid common in cats and dogs, new study reveals
New research suggests Covid is common in pet cats and dogs whose owners have contracted disease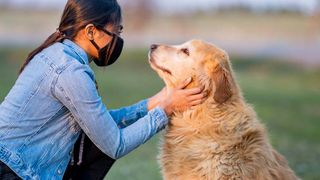 (Image credit: Getty Images)
A new Covid pet study carried out by a Dutch university has revealed Covid is common in cats and dogs in households where there has been a human infection.
Research was carried out in 196 homes with a human infection detected, where swabs were taken from 310 pets. A positive PCR test was returned for six cats and seven dogs, while 54 pets tested positive for virus antibodies.
According to the authors of the study, most infected pets tend to be asymptomatic or show mild Covid symptoms. "If you have Covid, you should avoid contact with your cat or dog," advises Dr Els Broens, from Utrecht University.
"The main concern is not the animals' health but the potential risk that pets could act as a reservoir of the virus and reintroduce it into the human population."
Researchers from Utrecht University in the Netherlands sent a mobile vet clinic to homes that had tested positive for Covid within 200 days. They took swabs and blood samples from cats and dogs to test for a current Covid infection or antibodies. The results showed 4.2% with a current infection while 17.4 tested positive for antibodies.
Another similar study in Canada found that cats who slept on their owners' bed were at risk of Covid infection. In fact, about 67% of pet cats and 43% of dogs tested positive in comparison to 9% of pets from an animal shelter, and 3% of local strays. Authors suggest that cats are more susceptible to Covid, but also more likely to sleep near their owner's face than dogs.
Although vets in Russia have started vaccinating some animals against Covid, experts believe there is no scientific evidence of pets passing the disease to humans.
"Most reports are that this infection appears to be asymptomatic," says Prof James Wood from Cambridge University, "It also seems that the virus does not normally transmit from dogs and cats to either other animals or their owners."
Get the best advice, tips and top tech for your beloved Pets
Cynthia Lawrence is freelance lifestyle journalist. Starting off her career in national magazines, she moved to digital and e-commerce publications. When she's not reviewing exciting products, she is obsessed with home interiors and her neighbour's cat!