Crufts 2022 kicks off without Russian competitors
The world's largest dog show, Crufts, has began at the NEC in Birmingham, UK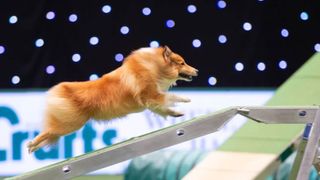 (Image credit: Facebook / Crufts)
After a two year hiatus due to the pandemic, everyone's favorite canine show, Crufts, has returned in 2022 with its impressive agility championships and a superb display from the dogs of the West Midlands Police force - and that's only day one!
Crufts, an annual event organised by The Kennel Club, has welcomed more than 16,000 pooches to take part in their competitions. However, as a result of the ongoing unrest in Ukraine, the 51 planned entries from Russia have been banned from competing.
"Our friends in Ukraine, and their dogs, are fearing for their lives and we will do all that we can to support them wherever possible," the organizers said in a statement, adding that they had taken the decision as a "testament to our sadness and concern about this situation."
The chairman of the Kennel Club also said they would donate £25,000 to worldwide canine organisation Federation Cynologique Internationale to help breeders and their dogs in need in Ukraine, Poland and Hungary.
A message from Tony Allcock OBE, Chairman of The Kennel Club, in respect of the invasion of Ukraine by the Armed Forces of the Russian Federation can be found on The Kennel Club website at: https://t.co/gPOuyafXTy.March 4, 2022
Despite this, there will be over 20,000 pups at Crufts this year, also taking part in other parts of the show such as obedience, agility, and those found in the discovery area of the venue.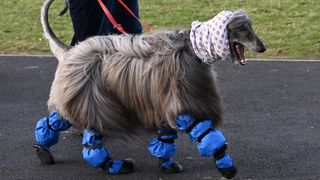 A Crufts spokesman said that "Crufts is looking forward to welcoming thousands of dogs back to the NEC this week."
"Following an uncertain few years, we were anticipating lower entry numbers owing to both changes to pet travel in the aftermath of Brexit, as well as the impact of the pandemic, with many people being unable to travel, particularly those from overseas, or being unable to commit to travel at this time."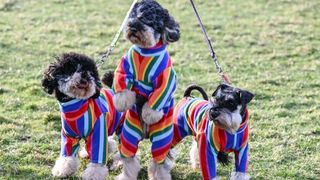 With that said, the spokesman went on to explain how they were "still delighted to be welcoming over 20,000 dogs to the NEC over the four days, including those who are competing in showing, agility, heelwork to music, and many other disciplines, as well as the variety of different breeds that visitors can meet in the Discover Dogs area."
On the first day of the show (Thursday 10 March), competitions for the Working and Pastoral categories were decided.
This year's winner of the Working category was the Siberian Husky: Siberiadrift Keep The Love for Zimavolk JW ShCM (Miss J Allen), and the crowned winner of the Pastoral category was the Border Collie: Etched in Sand by The Lake - Hunjch,junww 2021,junew 2021 (Miss Sólyom).
You can follow all of the action until the final day of the show on Sunday 13 March through Crufts' official website, where you can find their live stream, and over on their social media channels including Facebook, YouTube and Twitter.
Get the best advice, tips and top tech for your beloved Pets
Chloe is a freelance writer, editor, and proofreader, who has more than ten years' experience in creating animal-focussed content. From National Geographic to Animal Planet, Chloe's passion for creating fact-filled features all about wildlife and the environment is evident. But it's not just wild animals that Chloe's fascinated by. Having written more than 75 articles for PetsRadar - and having her very own four-legged friend by her side - it's no wonder that her love of dogs (and, of course, cats) has grown exponentially.
Her website, www.chloemaywrites.com, and social media pages - @ChloeMayWrites on Instagram, Facebook, and Twitter - showcase her knowledge through daily facts and trivia tidbits. For example, did you know that snails have teeth?!