Diaper-wearing disabled cat goes straight to the heart of millions on Instagram
Videos of Aoife crawling on her front paws and wearing a diaper have become viral hits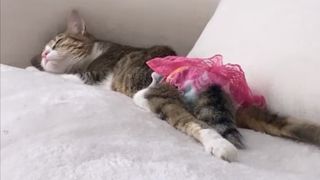 (Image credit: purrfectlyaoife/Instagram)
Millions of people have fallen in love with a disabled diaper-wearing cat after videos of her were posted on Instagram.
Two-year-old tabby, Aoife, is unable to use her back legs which means she has to move around on her front paws.
Yet, despite also being unable to use a litter box which means her pet parents need to help her empty her bladder and bowels, she appears wonderfully happy.
"Aoife is a paraplegic and incontinent kitten living her best life in LA with her five kitty siblings and two human parents," wrote 45-year-old owner Sabrina de Matteo from Los Angeles, California.
"She's happy and here to prove that disabled animals rock."
Videos posted on the purrfectlyaoife account are going down a storm, showing how quickly the cat is able to move around the house thanks, in part, to the adaptations made to enable her to get up the stairs.
Aoife also appears to have a huge amount of energy and she loves to play with the household's other cats, including five-year-old Pebbles, four-year-old Sofia, three-year-old Ellie Mae and two-year-old Peter.
Sabrina says helping her to manually express her bowels and bladder twice a day was initially daunting but has now become a simple daily task taking mere seconds.
The kitty was rescued by Sabrina and her 40-year-old husband James when she was just two-weeks-old. They spotted her on an animal rescue's Instagram page and spent ages learning how to take good care of her.
The Instagram account has 59,800 followers and one of the videos has been watched 73.3 million times, with 3.7 million likes.
"She's so cute and a true warrior," says one commenter. It's hard to disagree.
Get the best advice, tips and top tech for your beloved Pets
David Crookes has been a journalist for more than 20 years and he has written for a host of magazines, newspapers, websites and books including World of Animals, BBC Earth, Dogs and Canines, Gadget and The Independent. Born in England, he lives in a household with two cats but he's also keenly interested in the differences between the huge number of dog breeds — in fact, you can read many of his breed guides here on PetsRadar. With a lifelong passion for technology, too, he's always on the lookout for useful devices that will allow people to spend more time with their pets.