Cat parents are going wild for this budget DIY hidden litter box trick
This simple and stylish DIY hidden litter box trend is taking pet TikTok by storm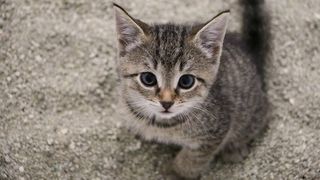 (Image credit: Getty Images)
If you're looking to transform your kitty's space on a tight budget then why not make your very own DIY hidden litter box?
Every owner wants the best for their fur babies and, of course, we all know that every cat wants the very best for itself too. But buying all the latest pet must-haves can get expensive, and there's always the risk your cat will turn its nose up at your offerings.
Enter TikTok, with a fun craft that seriously upgrades your pet's bathroom facilities without breaking the bank.
TikTok might be best known for its dance videos, but there's also a huge pet community constantly sharing cute videos, funny stories and handy pet care tips.
Combine this with crafting TikTok and you get the hidden litter box trend, a DIY for cat lovers tired of their pets' messy and unsightly litter boxes.
If you've had enough of watching your kitty kick cat litter from an ugly beige tray onto the floor, keep reading – you'll wonder why you never thought of this trick.
The trend sees owners taking a trip to the store and picking up a three-drawer tower – the kind you might use in a home office or as a bedside table.
How to make a DIY hidden litter box
Using a sharp craft knife, carefully cut the bottom out of the top drawer to make some headspace.
Cutting the bottom and one side out of the middle drawer creates a neat little entrance that's completely invisible from the front.
After taking a minute to feel for any sharp edges and sand them down, all that's left to do is fill the bottom drawer with kitty litter and slot all the drawers into place.
The result is a tidy hidden litter box that offers your cat some privacy, keeps the litter out of sight (and away from your nostrils) and contains all the mess. You can even use the top drawer for pet supplies.
There's no chance of litter spilling out onto the floor and when it's time to empty the tray, simply pull out the bottom drawer. The real beauty of this DIY is that you can find drawers that match your home – who says pet supplies have to be all function and no form?
And if you're feeling fancy, or the drawers aren't your style, it's time to get creative.
Crafty cat parents have hidden litter trays in wooden chests, chests of drawers and even plant pots; the possibilities are endless.
Get the best advice, tips and top tech for your beloved Pets
Victoria is a writer, author and communicator with a background in science and has recently completed an MSc in Science Communication. She also has a degree in Evolutionary Biology and has written for magazines including World of Animals, How It Works and Science+Nature. She grew up with rabbits and a spaniel, and has had her horse, Bernie, for 11 years.