Doberman's perfect response to "What does a kangaroo do?" is the sweetest
Salem the Doberman mix is keen to demonstrate "What does a kangaroo do?" in adorable viral video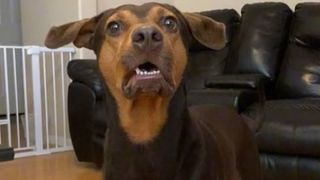 (Image credit: TikTok / @siriuslysalem)
Our four-legged companions are often keen to show off their talents, but one Doberman is taking his impressions to whole new heights, quite literally, by demonstrating exactly "what does a kangaroo do?" to his fans.
In an adorable video posted to TikTok channel @siriuslysalem, Doberman mix Salem eagerly looks up at the camera ready to perform his latest trick, cleverly imitating the Australian marsupial at the mere sound of the question posed to him by owner Lexx Marie.
The clever boy then knows exactly what to do, immediately springing into the air and bouncing up and down without much hesitation.
Though this pup is clearly keen to satisfy his owner's request, naturally, like any talented performer he doesn't work for free. Marie reveals that Salem doesn't care about treats, preferring instead to receive a toy for compensation.
What's more, the smart dog only learned the trick same day following a short training session in which he was "super amped" to get started, leaving netizens impressed.
"Wait, did you just teach him that today? That's amazing," commented user Alexis Pearson. "Gonna teach my dog this, love it!" @JustLarz wrote.
And while the pup's perfect imitation skills went down a storm with TikTokers, many were also keen to comment on just how adorable Salem's bouncing ears and cute expressions had brightened up their day.
@lindyofthemountain commented, "I cannot tell you how much joy this brought to my Monday." "His face is so serious," joked @ashk3154.
If you can't wait to see just what Salem will learn next you can follow his adventures, alongside his brother Sirius, over on their TikTok channel or discover more about their training over on their owner's Instagram page.
Maybe he'll be able to answer "what does the fox say?" or perform an entire one-dog show of animal impressions next time!
Get the best advice, tips and top tech for your beloved Pets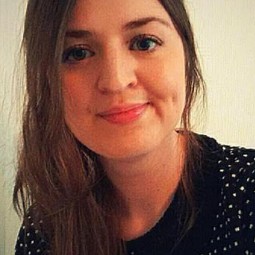 Ashleigh is Digital Editor on PetsRadar. With over 8 years of experience in print and digital media, she has acted as an editorial lead on a variety of projects, with animal themes a keen interest. As an avid animal lover, you can often find Ashleigh checking out the newest trends in animal care or looking at cute cat videos on TikTok.