Dog and cat become viral Instagram sensation after falling in love
The age-old myth that dogs and cats don't get along has been busted by a Labrador Retriever and an adorable Scottish Fold kitten who reportedly fell in love at first sight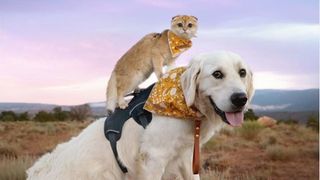 (Image credit: Calvin.andco Instagram)
Pictures of the two together have taken Instagram by storm, and become an overnight sensation. At the time of writing, the @calvin.andco Instagram account has just over 100,000 followers, and the Hendys and their pets have been featured in newspapers all over the world, and the American television program Good Morning America.
Samson, aged 2, and Cleo, 4 months, were adopted by Lea and Eric Hendy ,and immediately fell in love. Lea credits Samson's gentle nature as the key to the pair's special relationship.
"Samson is also sweet with all things and has a very good temperament, so he immediately was sweet to the kitten and wanted to take care of her. Samson was in love with the kitten as soon as we got her," Lea told the UK's Daily Star.
Lea says Samson consoled the kitten on her way home from the animal shelter, and cried when the kitten cried because he was so concerned for her.
The furry pair and the Hendys share their San Francisco home with another yellow Lab, Calvin, who is a trained therapy dog. Samson is a trained medical service dog, responsible for helping Lea with her medical issues.
"Samson has been trained to help with the medical episodes that I have," Lea said. "He can help prevent them."
She says these two dogs' gentle and caring temperaments are the key to the friendship they've forged with little Cleo, and the kindness they all share with one another.
"Even though they are very different from each other, they still love each other, they care for each other, and trust each other," Lea told Good Morning America.
Hendy's husband, Eric, was not originally a dog person, instead favoring cats. But Lea convinced him to adopt Calvin. Two years later, they adopted Samson. The dogs' sweet natures quickly won Eric over, and he and Lea both say Samson in particular is more like a cat than a dog. After they adopted Cleo, he would attempt to play with her toys with her, and bathe her face. Frequently the pair can be spotted napping together in a sunny spot on the floor.
The Hendys are world travelers, and frequently take pictures of their adventures with the trio of animals to share on their Instagram. Lea says she initially started her Instagram to share pictures of her first dog, Calvin, but since she began posting pictures of Cleo and Samson, her follower count has skyrocketed.
"We started building this community a few years ago to post cute photos of our dog," the Henry's recently posted to Instagram. "Our dog made us smile, so we hoped he would make others smile as well. We never expected that the internet would bring us as much joy as it has – we've met people from around the world, we've made some of our best friends over here, we've celebrated so many of life's milestones and grown our family. For everyone who has been here since the beginning when we were teaching baby Calvin to stop shredding toilet paper, thank you! For everyone who is new, welcome to our wild life!"
Get the best advice, tips and top tech for your beloved Pets
Susan Arendt is a writer and editor with more than two decades of experience from companies including AOL, Conde Nast, and The New York Times. She currently resides in North Carolina with three dogs (Alice, Bridget, and Chloe) who, frankly, run her life.