Dog food recall prompted after discovery of dangerously high Vitamin D levels
Does your dog eat any of the Simply Nourish products that are included in this dog food recall?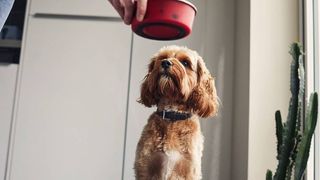 (Image credit: Getty Images)
A dog food recall of a number of Simply Nourish products has taken place after a routine nutrition test discovered that they contained dangerous levels of Vitamin D. Even though dogs need Vitamin D as part of their diet, too much of it can lead to a number of serious health issues, such as renal dysfunction.
It's thought that around 51,000 packs, which were sold at select PetSmart stores nationwide, have been affected by the voluntary recall, which was issued by the Wet Noses Dog Treat Company.
The recall includes the following products:
Simply Nourish Frozen Beef & Barley 2lb (UPC: 73725792266)
Simply Nourish Frozen Beef & Barley 4.5lb (UPC: 73725792267)
Simply Nourish Frozen Chicken & Veggies 2lb (UPC: 73725792262)
Simply Nourish Frozen Chicken & Veggies 4.5lb (UPC: 73725792264)
Simply Nourish Frozen Pork & Veggies 2lb (UPC: 73725792078)
Simply Nourish Frozen Pork & Veggies 4.5lb (UPC: 73725792078)
Simply Nourish Frozen Turkey & Sweet Potato 2lb (UPC: 73725792260)
Simply Nourish Frozen Turkey & Sweet Potato 4.5lb (UPC: 73725792263)
But not all of the above products have been affected.
The 'Best By' ranges of the packs included in the recall range from 11/10/2022 - 01/12/2023, except the Pork & Veggies variety, which ranges from 08/26/2022 - 01/13/2023.
Should you have any of these products at home, you are advised to stop feeding it to your pooch and return the item to the store that you bought it from for a full refund.
If your canine starts to exhibit any of the following symptoms, you need to seek medical advice from your veterinarian:
Increased thirst
Increased urination
Loss of appetite
Excessive drooling
Vomiting
Weight loss
A full list of the products that are being recalled, along with the original recall statement, can be found on the U.S. Food and Drug Administration (FDA) website (opens in new tab).
Looking for more great food content? Check out our guides to the best dog food, best wet dog food and best dry dog food for a list of our favorite brands and products.
Chloe is a freelance writer, editor, and proofreader, who has more than ten years' experience in creating animal-focussed content. From National Geographic to Animal Planet, Chloe's passion for creating fact-filled features all about wildlife and the environment is evident. But it's not just wild animals that Chloe's fascinated by. Having written more than 75 articles for PetsRadar - and having her very own four-legged friend by her side - it's no wonder that her love of dogs (and, of course, cats) has grown exponentially.
Her website, www.chloemaywrites.com, and social media pages - @ChloeMayWrites on Instagram, Facebook, and Twitter - showcase her knowledge through daily facts and trivia tidbits. For example, did you know that snails have teeth?!
Thank you for signing up to Petsradar. You will receive a verification email shortly.
There was a problem. Please refresh the page and try again.