Couple finds their dog hiding in luggage at airport check-in
Travellers on their way to Vegas were shocked to find their pet pooch hiding in their suitcase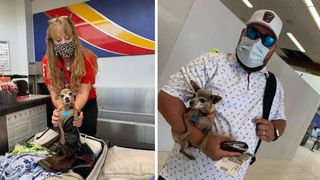 (Image credit: Facebook / Jared Owens)
Jared and Kristi Owens couldn't wait to touch down in Las Vegas to start their vacation – that was until they uncovered their dog hiding in their luggage.
When they arrived at their check in desk at Lubbock Preston Smith International Airport in Texas, they were surprised to be told that their baggage was too heavy, and they would have to pay an additional charge for exceeding the limit.

Upon opening the suitcase to rearrange the contents and attempt to make it lighter, no-one could have expected to find a small stowaway amongst the clothes!

The pair from Texas claim that they hadn't noticed they were carrying their four-legged pooch, Icky, in their belongings until they reached the airport.
It's thought that the six-pound Chihuahua had hopped into the open suitcase when the pair were busy doing their last-minute packing, before burrowing down in order to get cozy in one of Jared's cowboy boots.
"She didn't make a peep, not one sound. We had no clue and as soon as we unzipped it, she just came crawling right out", explained Kristi. "It was as though we woke her up and she was like, 'What are y'all doing'", said Jared.
The surprise stowaway also shocked airport staff, too. Cathy Cook, a Southwestern Airlines employee, even offered to look after the cheeky Chihuahua whilst Jared and Kristi were in Las Vegas.
Despite her kind offer, Jared's uncle came to collect Icky to return her to Kristi's mom.
Get the best advice, tips and top tech for your beloved Pets
Chloe is a freelance writer, editor, and proofreader, who has more than ten years' experience in creating animal-focussed content. From National Geographic to Animal Planet, Chloe's passion for creating fact-filled features all about wildlife and the environment is evident. But it's not just wild animals that Chloe's fascinated by. Having written more than 75 articles for PetsRadar - and having her very own four-legged friend by her side - it's no wonder that her love of dogs (and, of course, cats) has grown exponentially.
Her website, www.chloemaywrites.com, and social media pages - @ChloeMayWrites on Instagram, Facebook, and Twitter - showcase her knowledge through daily facts and trivia tidbits. For example, did you know that snails have teeth?!