Watch: Baseball-playing dog hitting ball with bat delights the Internet
Remarkable Blue Heeler pup goes viral after hitting a home run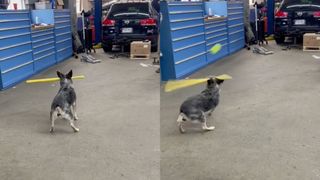 (Image credit: TikTok / @barstoolsports)
One Massachusetts-based mutt is trying out for the Red Sox next season with an impressive hit using just a wiffle bat and a doggy ball.
Pepper aka Big Pupi, a Blue Heeler, grasps the bat in her mouth, paces the batter's box waiting for the pitch, violently swings the bat back and expertly makes contact like a pro, sending the ball flying in a moment that has impressed sports and dog lovers alike.
The video, originally posted on Instagram by melis_lawrence (opens in new tab), reached over 12K views initially, before being picked up by TikTok channel Barstool Sports (opens in new tab), set to an appropriate baseball commentary sound bite and accompanied by tongue-in-cheek caption "How does this effect Air Buds legacy?" racking up over 16 million views in the process.
Many people are amazed by the promise Pepper shows in potentially taking up a career in Major League Baseball, with the OP @melis_lawrence (opens in new tab) tagging the official Major League Baseball Instagram account in her comment: "Hey @mlb (opens in new tab) she's a free agent!"
Leo_soulchild jokes, "Awesome. SportsCenter/ESPN sent me here" while Sarah Koza chipped in about the breed and their incredible capability: "Absolutely brilliant! I have a Blue Heeler also and she develops the craziest talents and skills. But nothing that compares to teeth-eye coordination like Pepper!"
Meanwhile, over on TikTok, @Customer_support comments: "Damn, you ever think of farming the pup out to the reds for the season?"
Marky says: "Imagine explaining to your neighbor your dog broke the window" and @marcusallen741 adds: "Showed this to my dogs and they spoke to me in plain English "go be with him then."
Eat your heart out Major Leagues!
Get the best advice, tips and top tech for your beloved Pets
Thank you for signing up to Petsradar. You will receive a verification email shortly.
There was a problem. Please refresh the page and try again.