Best ball throwing machines for dogs: Play fetch even if you're too busy
Upgrade playtime or simply take a load off – automatic ball throwing machines for dogs could be your family's new favorite pet toy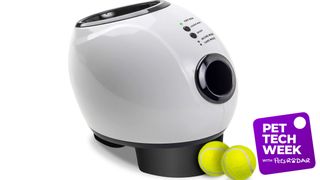 (Image credit: Paws & Pals)
Ball throwing machines for dogs can be very handy. Fetch and play are some of the most important and enjoyable aspects of our relationships with dogs but, even when armed with the best dog toys, many owners can struggle to keep up with their energetic pooch's demands. Enter the automatic ball throwing machine.
In the midst of the uncertain times we live in, we might not be able to regularly enjoy the long days at the park or beach we've become accustomed to. Automatic ball throwers provide a convenient solution that can keep your dog entertained for hours. They are a larger investment than a standard ball flinger, but offer numerous advantages, including the opportunity for truly independent play and innovative design.
From the top of the range to the best for the budget and out of the box choices, we've got options to suit every need. So whether you're pressed for time working from home or nursing a lifetime 'thrower's shoulder', your dog's new favorite fetch partner could be listed below!
PetsRadar's pick of the best ball throwing machines for dogs
Best overall ball throwing machine for dogs: PetSafe Automatic Ball Launcher
Best ball throwing machine for small dogs: All For Paws Hyperfetch Mini
Best alternative ball throwing machine for dogs: Franklin Sports MLB Electronic Baseball Pitching Machine
Best ball throwing machine for dogs with extra features: Paws & Pals Automatic Dog Ball Launcher Toy
Best ball throwing machine for larger dogs: iFetch Too Interactive Ball Launcher 

Best customizable ball throwing machine for dogs: GoDogGo Automatic Thrower Machine

Best overall ball throwing machine for dogs
Amazon Rating: 3.5 stars (598) | Weight: 4kg | Ball Capacity: 3 x standard tennis balls
Adjustable height and distance settings
Mid-range price point
Compatible with standard tennis balls
Loud alert sound
Timeout system can slow down play
The PetSafe Automatic Ball Launcher is marketed as the ultimate playtime companion for your dog. Weighing approximately 4kg, the Launcher fires out tennis balls (three loaded at a time) for your dog to fetch, and can then return to drop back in the launcher and start again. The distance and height of the launch can be adjusted using dials on the side of the device, which can be charged at the mains or loaded with six D Cell batteries (not included) for outdoor use.
The device has nine adjustable distance settings, ranging from 2.5 to 9 meters, and its multiple power options (the included power cord or the batteries) allows for fun playtimes both inside and outdoors.
The PetSafe Automatic Ball Launcher has received 525 Amazon reviews with an average rating of 3.5 stars, the same score achieved by the latest iFetch Too model from 598 reviews.
Owners of highly energetic or working dogs like Collies are big fans of the adjustable distance and height setting offered by the PetSafe launcher, with one commenting, "This is my dog's dream!"
The overwhelming majority of the 210 five star Amazon reviewers (40%) praised the "fantastic distance and height options", and a great number also praised the PetSafe's safety features. Many, however, found the 15-minute 'timeout' function frustrating both for them and their pooch. As one reviewer commented, "I just wish there was a way to disable 'timeout'. It's a good idea but the fact you can't switch it off is not."
All For Paws Hyperfetch Mini
Best ball throwing machine for smaller dogs
Amazon Rating: 4 stars (278) | Weight: 2.2kg | Ball Capacity: 3 x mini tennis balls (mini rubber also compatible)
Great value
Suitable for indoor and outdoor usage
Money-back guarantee
Can be unreliable
Noisy during usage
Only suitable for small dogs
This automatic launcher is designed especially for small to medium dogs, and is suggested as a perfect toy for your dog to play with, even when unsupervised (despite the advert also stating "always supervise your dog while playing").
The Hyperfetch can fire balls between 10 and 30ft, and the return and feeding system claims to be very intuitive for dogs to get used to for dropping the balls back in themselves. Included with the device are three small balls and a charging unit.
With a 55% share of five star votes from 277 Amazon reviews, many customers found the device to be easy to set up and huge amounts of fun for their dog. One user commented, "My dachshund loves it too much, we've had to ban it because she goes into a frenzy of excitement every time she sees it!".
However, several reviewers encountered some issues, most notably in the device's ability to work consistently. Among the 35% of reviews ranging from one to three stars, reviewers mentioned that the device stopped working after two or three balls. Others reported the charging unit to be faulty, with the device being apparently unable to retain power. It is also only suitable for EU plug sockets, so British buyers will need to buy an adaptor.
At the low price point, complaints of this nature are not necessarily surprising, but they're in the minority of reviews, and a great upside is the no-questions-asked money back guarantee that All For Paws provides, which was mentioned by the dissatisfied customers.
Overall, the Hyperfetch Mini is an affordable and serviceable option for smaller dogs to play with, and comes without the risk of losing money thanks to the refund policy.
Franklin Sports MLB Electronic Baseball Pitching Machine
Best alternative ball throwing machine for dogs
Amazon Rating: 4 stars (1916) | Weight: 110 grams | Ball Capacity: 9 x plastic baseballs (provided)
Great value for money
Balls included
Three adjustable height and distance settings
Must be manually loaded
Included balls are not great
Requires 6 D batteries
Perhaps you're not in the market to splash out on a brand new automatic ball launcher? No problem! If your son or daughter is a baseball fan, the Franklin Sports electronic pitching machine could become your best friend's new best friend.
The device is extremely easy to assemble and begin using, but does carry the unusual requirement of six D batteries, which are not included (a helpful tip from reviewers is to purchase rechargeable D batteries to solve this problem).
Six plastic baseballs are provided, and are loaded into the spiral feeder. A red light indicator flashes every seven seconds to indicate launch, which can be up to 30ft at three adjustable heights.
The Franklin electronic pitcher is remarkable value for money for dog owners with tired throwing arms, providing hours of potential supervised fun for your pooch.
The device comes highly rated by Amazon customers, carrying a four star average from nearly two thousand reviews, 53% of which are five stars. Many of the reviewers have caught on to the device's fetch potential, saying it has been a great playtime addition for their dogs.
The bulk of the negative reviews are directed at the balls provided with the device. Reviewers commented that they "prevent the launcher firing properly" and "are "too delicate" to be regularly bitten by dogs. Resourceful reviewers found multiple superior options, such as the Juggs Poly Baseballs and standard Wiffle baseballs. It should be noted that standard tennis balls are not compatible with the machine.
Understandably, dogs find it difficult to reload the balls independently. As a result, the Franklin launcher is a fantastic, cost-effective playtime companion rather than a leader like some of the other devices on this list.
Paws & Pals Automatic Dog Ball Launcher Toy
Best ball throwing machine for dogs with extra features
Amazon Rating: 3.5 stars (162) | Weight: 3kg | Ball Capacity: 3 x mini tennis balls (mini rubber also compatible)
Treat dispenser feature
Large ball deposit hole
Compatible with other small balls
Inconsistent launching strength
Short battery life
No adjustable height setting
From American pet specialists Paws and Pals comes a launcher built to satisfy the playtime needs of your small dog, including a neat reward compartment.
The launcher can fire the provided small tennis balls, as well as other small options, up to 30 feet. The device also has one of the larger deposit holes of its competitors, enabling an easier training period for your dog to use independently.
The Paws and Pals launcher also has a built-in treat compartment to aid the training of your pooch to use the device.
From 162 Amazon reviews, the launcher carries an average of 3.5 stars including an impressive 39% 5 star share. The device's powerful launching system is praised by several reviewers. One commented, "This thing LAUNCHES! At level 1, it went all the way across my (normal suburbia-sized) back yard."
Similarly, a Pomeranian owner commented, "We use it at least an hour a day, sometimes two hours.Iit keeps him busy and happy while we get to watch him run and play".
Another found that the Paws and Pals launcher out-performed both the iFetch and the iFetch Too in distance launched, but recommended purchasing rubber balls for better durability.
One of the primary criticisms of the device stems from the mechanism trying to launch damaged tennis balls, a common complaint with many of the launchers on the market. One reviewer said, "the tennis ball type balls get destroyed within minutes and don't go very far".
Another said, "When the tennis balls are slobbered, it gets pretty wimpy in its throwing".
The Paws and Pals launcher represents a solid option to take over throwing duties for your pooch at a reasonable price point, and the treat compartment and large ball deposit give it the edge over a lot of alternatives.
iFetch Too Interactive Ball Launcher 

Best ball throwing machine for larger dogs
Amazon Rating: 3.5 stars (900) | Weight: 5.6kg | Ball Capacity: 3 x standard size tennis balls
Fully automatic launch system
Compatible with standard tennis balls
Indoor and Outdoor use
High price tag
Fragile mechanism
No safety sensor
The iFetch Too was created to match the fun of the original iFetch, but with larger dogs in mind. The result is a larger, more powerful launcher that can be adjusted to fire balls (including standard tennis balls) from 15 to 40 feet. These settings can be chosen manually or set to random to keep your pooch guessing.
Rechargeable batteries mean there's no need for repeated purchase, and the device can be used inside or taken to the park or beach for outdoor fun.
The iFetch Too has accrued a 3.5 star rating from just over 900 Amazon reviews. The majority of the 4 and 5 star reviews (55% of the total) praise the simple feeder system, which reviewers say was "easier for my dog to work out than other launchers".
There are, however, a variety of issues raised with the iFetch Too; 21% of the total reviews are listed as just one star.
One of the most common problems listed is the quality of the balls provided and the impact they have on the device's mechanics. As one reviewer observes, "the knurled wheels were already getting wear from just two play sessions because the balls were destroyed".
Another said, "as soon as the balls get wet, they do not work in the launcher". Standard tennis balls apparently work better for the launcher, but the problem still persists over time.
Other reviewers observed that the high-pitched alert noise prior to launch was scaring their dogs, preventing them from approaching the device to deposit the ball. Additionally the lack of a safety sensor, like those found on the PetSafe launcher, meant that balls could be launched whilst dogs stand directly in front of the device, risking injury.
Despite 41% of reviewers giving the iFetch Too five stars, there may be better options for those not willing to splash out on the premium price tag.
GoDogGo Automatic Thrower Machine

Best customizable ball throwing machine for dogs
Amazon Rating: 3.5 stars (110) | Weight: 4.75kg | Ball Capacity: Up to 25 balls (depending on use of standard or mini sizes)
Remote control capability
Variable timer settings
Helpful step-by-step instructions
Higher end price tag
Inconsistent launch mechanism
Can't be used indoors
The GoDogGo prides itself on being the original automatic ball launcher for dogs with the original model first hitting the market in 1999.
Unlike the other options on this list, the GoDoGo G4 is truly a launcher, prioritizing height over distance and claims to be able to reach up to 30 meters. As a result, the GoDogGo is only suitable for outdoor play (unless you have extremely high ceilings).
One of the device's most attractive features for stamina-deprived owners is the remote control feature, which can activate the launch of one of three loaded tennis balls from a distance at 7- or 15-second intervals. This gives ample time for your pooch to collect and return the ball to the deposit hole, ready to go again. The device can hold up to 25 balls of varying sizes and materials – a major advantage over many of its competitors.
A feature highlighted regularly in the 70 five star Amazon reviews is the manual provided to get your dog used to the device's noise alert system. One reviewer commented, "My collie is a nervous dog, so it took four or five days using the machine before she was confident in bringing the ball to the machine. Good, clear instructions and slow and steady wins the race!"
The device carries an average of 3.5 stars across the 110 reviews, and other positive comments center around the high launch arc and the flexibility of mains or battery power outputs.
As with most automatic launchers, reviewers noted the decreased quality of the launches after repeated use with the balls provided. As mentioned in our introduction, a top tip when purchasing a launcher is to buy rubber balls for better durability (just make sure they are the right size for your device!).
The GoDogGo is a more expensive option than others on the list. However, if your dog has a particular love for high throws over distance, and you have access to wide, open spaces, it could be a fantastic addition to your playtimes.
How to choose the best ball throwing machine for dogs
Automatic ball throwers can be a fantastic addition to your pup's playtime portfolio. But with the variety of options available, it can be difficult to know what would be the best fit for you and your pooch's needs.
The most important factors to consider are your dog's age and size, your availability, and your budget. Some automatic throwers only work with small balls, which are unlikely to last with bigger, stronger dogs. Be sure to look out for the right breeds in the product description.
Secondly, some owners may want a ball thrower that can operate with almost complete autonomy if they can't be in the room to lead the game of fetch. Others may only require a chucker to save their shoulder the stress!
Finally, automatic ball throwers are not cheap pieces of equipment. Always make sure the seller provides a warranty, and keep an eye out for smart bargains that may fit the bill for a fraction of the cost (see our baseball thrower recommendation).
Pet Tech Week on T3
Pet Tech Week is brought to you in association with our new sister site PetsRadar.com. PetsRadar.com is a new pathway to healthy, happy pets that offers a unique combination of trusted advice and the best deals on top pet products – check it out today at www.petsradar.com.
Get the best advice, tips and top tech for your beloved Pets
Thank you for signing up to Petsradar. You will receive a verification email shortly.
There was a problem. Please refresh the page and try again.