Dog saves injured hiker in Croatian mountains
A loyal dog has saved an injured hiker's life by guarding him for 13 hours in freezing conditions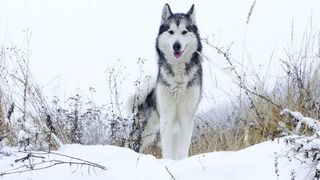 (Image credit: Getty Images)
An eight-month-old dog has saved an injured hiker by laying on top of him for 13 hours in order to stop his owner Grga Brkic from freezing to death.
Grga and his dog fell almost 150 metres whilst out hiking in the Croatian mountains and soon discovered that he was unable to move to get himself to safety.
The courageous canine was left unharmed, but his owner wasn't so lucky and had suffered serious injuries to his leg and rendered immobile.
The two other hikers that he was walking with in the Velebit mountain range were unable to get to him, which is when they raised the alarm to help rescue their friend.
Almost 30 first responders attended the scene, which was almost 1,800 metres above sea level, as they attempted to locate the pair.
As the darkness of night fell, the Alaskan Malamute, named North, curled around him to ensure that he remained warm until the pair could be rescued.
The overnight operation was hampered by the snow, ice and broken trees that blocked the rescuers path. The team reached the pair by midnight and were able to pass the hiker over to the medics for treatment eight hours later.
Following the dramatic rescue, Grga described his pooch as "a real miracle".
In a Facebook post, Croatia's mountain rescue service shared the story explaining how "friendship and love between man and dog have no boundaries".
"His [North's] loyalty didn't stop even when the rescuers came, he was one of us, guarding his man for 13 hours", they explained.
Get the best advice, tips and top tech for your beloved Pets
Chloe is a freelance writer, editor, and proofreader, who has more than ten years' experience in creating animal-focussed content. From National Geographic to Animal Planet, Chloe's passion for creating fact-filled features all about wildlife and the environment is evident. But it's not just wild animals that Chloe's fascinated by. Having written more than 75 articles for PetsRadar - and having her very own four-legged friend by her side - it's no wonder that her love of dogs (and, of course, cats) has grown exponentially.
Her website, www.chloemaywrites.com, and social media pages - @ChloeMayWrites on Instagram, Facebook, and Twitter - showcase her knowledge through daily facts and trivia tidbits. For example, did you know that snails have teeth?!