Drago, the 92lb burglar guard dog, can take down intruders in a flash
Watch this 92lb Doberman take down burglars with speed and style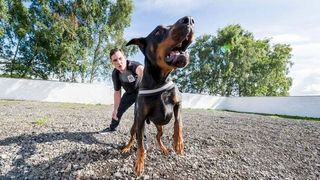 (Image credit: Jonathan Pow / Barcroft Media)
Schooled to savage an intruder on command, meet Drago, the 92lb burglar guard dog who might just be Britain's toughest dog.
Trained by professional dog trainers Leedor Borlant and Robert Dye who together run Protection Dogs UK, a specialist breeder who train some of the toughest and most protective dogs in the world, this prize-winning Doberman is super-skilled.
The duo take their canines' training very seriously, even dressing up themselves as burglars, complete with balaclavas, to imitate breaking into a home to test the dog.
Drago's intense training meaning there's just no negotiating with the canine when you're an intruder to the home. The enthusiastic pooch is ready to spring into action at a moment's notice, the ultimate burglar guard dog on a mission to keep his household safe.
"We will train the dog for real life situations, " Leedor told Barcroft Media. "No-one attacks with dog training equipment such as sleeves or whips. Someone's going to attack you with a metal bar or point a gun at you and these dogs have to be ready for anything."
This level of training means dogs like Drago sell for a high price tag of up to $40,000 to VIPs including foreign dignitaries and Premier League footballers fearful of armed robbers or kidnappers looking for a hefty ransom.
The dogs are sourced from around the world - from Serbia and Czech Republic to American and Russia.
Leedor said: "Sourcing our dogs is a difficult thing to do - it's all about the temperament of the dogs and their pedigree.
"We might see 100 dogs and only come back with one. We don't look for vicious dogs or aggressive dogs - we want strong stable dogs."
The enthusiastic trainer insists that, although dogs like Drago take down intruders with ease, they make for safe family pets.
In fact, he believes in his canines' temperament so much that he lives at the kennels with them alongside his own family, working from 6am in the morning to 9pm at night, 7 days a week, to fulfil his ambitious training schedule.
Everyday Leedor cleans the kennel, prepares the dogs' raw food diet and lets the pups out for their daily walk. The dogs are then trained for obedience or protection.
"These dogs we trust with our own. Family members, friend's kids. We could never sell a dog like this if it had any sort of aggression towards kids. One bite of this dog for a kid, and we're over."
Get the best advice, tips and top tech for your beloved Pets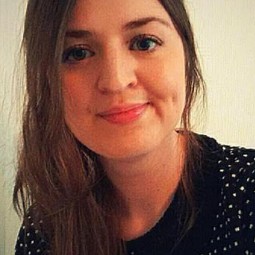 Ashleigh is Digital Editor on PetsRadar. With over 8 years of experience in print and digital media, she has acted as an editorial lead on a variety of projects, with animal themes a keen interest. As an avid animal lover, you can often find Ashleigh checking out the newest trends in animal care or looking at cute cat videos on TikTok.