Meet the most protective dogs in the world trained to elite standards
You wouldn't want to mess with these incredible loyal guard dogs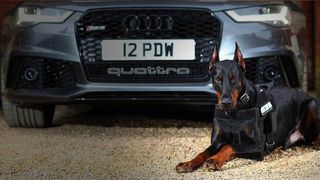 (Image credit: Protection Dogs Worldwide)
If you thought your pup was loyal, just wait until you meet a few of the most protective dogs in the world.
Leedor Borlant is the owner of Protection Dogs Worldwide, a dog training company based in the UK who specializes in dobermans, cane corsos and german shepherds.
As lead trainer with over 10 years experience, Leedor looks to nurture and develop loyal guard dogs on behalf of families looking for an elite level of protection using four levels of training, including bringing up a pup in his own home.
The dog expert is so passionate that he lives at the kennels with the dogs and his own family, starting at 6am in the morning to 9pm at night, 7 days a week, to fulfil his ambitious aim of creating the most protective dogs in the world.
The loyal canines are also some of the most expensive, worth up to £100,000 depending on the level of training they have been given.
Everyday Leedor cleans the kennel, prepares the dogs' raw food diet and lets the pups out for their daily walk. The dogs are then trained for obedience or protection.
Bentley, one of Leedor's Cane Corsos, is one of the trainer's favorite breeds to work with.
"I love working with Cane Corsos," the enthusiastic dog trainer said. "They're very slow at developing, so the end product is so much more rewarding."
One of the biggest canines at Protection Dogs Worldwide was Lex, a 78 kilo Cane Corso.
If you thought these guard dogs would be intimidating, however, Leedor assures that his dogs actually have a cute goofy side, despite their intense protective training.
Referring to German Shepherd Fraser, Leedor says "Fraser is not your everyday dog. He's a very sweet dog, but when it comes to working the dog, he turns into an absolute lunatic!"
"This dog will show you a high level of intensity. He'll show you real aggression. I don't need to agitate him, he's just ready for action."
Fortunately, Leedor knows exactly how to calm his canines down. At the end of the day, the savvy dog trainer turns on television and heating to mimic a family environment, the perfect rewarding end to a day for dogs (and trainer!) who work so hard in training.
"What sets us apart from other dog trainers is the level of training we're willing to go to and the things we're willing to do."
"My ambition is to keep pushing dogs as far as I can push them and to the reach the best ability with any dog we can get. I love the place with a passion. I love the dogs, I love what we do. We really do aim to achieve the world's best protection dog."
Get the best advice, tips and top tech for your beloved Pets
Ashleigh is Digital Editor on PetsRadar. With over 8 years of experience in print and digital media, she has acted as an editorial lead on a variety of projects, with animal themes a keen interest. As an avid animal lover, you can often find Ashleigh checking out the newest trends in animal care or looking at cute cat videos on TikTok.