Neglect survivor Ethan the dog nominated for Hero Dog Award
Ethan, a rescue pup who now offers support to other neglected animals, has been nominated for an American Humane Hero Dog Award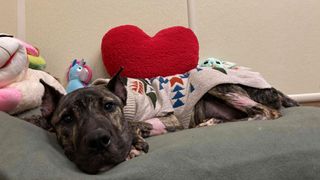 (Image credit: Facebook/Kentucky Humane Society)
Ethan's story is one of incredible hope and strength. The poor pup was abandoned in the parking lot of Kentucky Humane Society in January 2021, dying from malnourishment and weighing a mere 38lbs – less than half the weight he should have been for his breed and age.
His resilience is remarkable and his inspiring tale from death's door to doggy social worker is nothing short of incredible, inspiring people from all over the world – and now it could earn him an official American Humane Hero Dog Award.
After being rushed to the vet, it was clear that this poor mutt was in need of serious attention. Ethan couldn't lift his own head to eat or drink and it took him almost a week to take his own steps. However, he and his carers didn't give up hope and his resilience.
His Hero Dog Awards profile reads: "Over the past year Ethan has brought attention and recognition to shelters and animals all over the country through his story. His journey has inspired people that have never met him to send me letters and emails detailing how his battle to keep living inspired them to overcome some incredible odds in their lives."
Ethan garnered quite the fanbase, sharing his journey through his Facebook page, and was even chosen as the celebrity guest to throw the first pitch at the Louisville Bats inaugural "Hops & Hounds" event.
One of Kentucky Humane Society's employees adopted Ethan, and he now takes him to work with him in order to pass on his pup's incredible resilience to other rescue animals in order for them to have encouragement and support to move past physical and emotional trauma, just like Ethan has.
Ethan has been nominated in the Shelter category, alongside a German Shepherd named Sasha who found a missing little boy with downs syndrome and rescued a 77 year old lady who fell and broke her knee, a paralysed Frenchie named Miss Maud and an ex bait dog, Jerry Lee – amongst many other worthy competitors.
You can vote for Ethan, or any of the other precious pooches, until May 18th (for the 1st Round Voting Period) over on the American Humane Dog Hero Awards website. Each email address can vote once per day per category – so get your votes in!
Get the best advice, tips and top tech for your beloved Pets