Fevzi the cat can't help showering love to owner as he plays piano
A video clip of Fevzi the cat showering love to his owner playing the piano goes viral…and here's why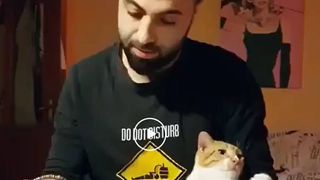 (Image credit: @Elua7 / Reddit)
Cats are lovable creatures at the best of times, and this cute, viral clip of Fevzi the cat showering its owner 'dad' with affection while he plays the piano proves exactly that!
This heartfelt clip of the lovable feline was originally shared on Instagram by user 'sarperduman', who rescues cats, before going viral on Reddit. In the video, a man is seen playing a beautiful rendition on the piano while a cat is sat on his lap. As he plays, the cat cuddles up to him, licks his fingers, and even appears to gently grab his face between its paws. But this doesn't distract the man as he continues to play. Adorable!
Clearly touching viewers, it received 4,600 upvotes within the 22 hours of being shared on Reddit. Netizens commented on how cute the kitty was, while others were impressed with the man's piano talents. One Reddit user posted, "I admire his ability to keep playing while the cat is rubbing on his hands. I have tried working with a cat wanting attention like that, it is hard to do anything accurately."
The clip was originally posted on World Stray Animals Day (April 4th), and the story behind Fevzi the cat is even more heart warming. He was a stray cat found on the streets after being kicked and crippled. But after long treatments, he fully recovered and is now a loving and affectionate cat.
If that clip won't bring a tear to your eye, we don't know what will!
Get the best advice, tips and top tech for your beloved Pets
Cynthia Lawrence is freelance lifestyle journalist. Starting off her career in national magazines, she moved to digital and e-commerce publications. When she's not reviewing exciting products, she is obsessed with home interiors and her neighbour's cat!