Five fantastic videos for cats to watch on YouTube
Believe it or not, videos for cats are now so popular that felines have become a "key emerging audience" for YouTube in 2020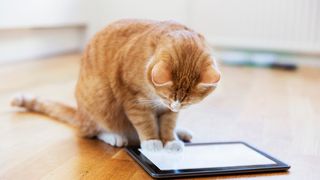 (Image credit: Getty)
With a crazy 2020 well and truly behind us, perhaps it's not so surprising to find that videos for cats have been an emerging trend over the past 12 months. Type "videos for cats" into YouTube and you'll be rewarded with a long list of choices featuring fish, birds, squirrels and a host of other wildlife that darts and dashes about the screen. It should probably be even less surprising considering that apps for cats are big business, including the cat translator app Meowtalk. 
According to a number of cat experts, these YouTube videos can transform the small screen of a tablet or smartphone into an enriching environment for your kitty. Cat behaviourist Ingrid Johnson has claimed that these videos provide more fulfilment than laser pointers when used in conjunction with the best cat toys and treats. 
Ingrid's not alone in this endorsement either with videos for cats getting the thumbs up from organisations like leading cat food manufacturer Purina, who claim; "It turns out cat vision is limited to only a few colours, predominantly shades of green and blue… However, it's not the details that matter to your cat's viewing preferences, it's the movement that captures their attention."
Given the amount of choice on YouTube, we thought we'd cut through the noise and present our five favourite videos for cats to watch on TV, tablet or smartphone.
Best video for cats overall
Paul Dinning is one of YouTube's most prolific posters of videos for cats and his "Eight Hours of Birds and Squirrel Fun" is a true epic of the genre. Despite the title, the photographer from Cornwall captured almost nine hours of British garden birds and the occasional grey squirrel popping in and out of frame to grab a snack from a bird table.
Best mouse video for cats
This 21 minute video from www.tvbini.com features a top-down view of a furry little fella munching on nuts and seeds. Cats will love watching him dart in and out of view before chowing down on the goodies, and owners will love reading the comments. 
Best bird video for cats
Another effort from the cat video powerhouse, Paul Dinning, this 18 minute film is shot in beautiful high-res and features the woodland birds of Tehidy Woods. Some reviewers have even remarked that it had their cats looking behind the iPad in search of feathered friends to pounce on!
Best fish video for cats
The Boredom Blasting Fish Video for Cats premiered on YouTube back in April 2019 and has since clocked up an impressive 206,492 views, figures many a budding influencer would trade a limb for. With a two hour run time, the video features a selection of koi and discus fish paired with a relaxing ambient soundtrack.
Best abstract video for cats
Another effort from www.tvbini.com features 14 minutes of sparkling orbs criss-crossing a black screen. While it doesn't sound particularly interesting to humans, it seems to go down very well with feline critics judging by the YouTube comments from their owners. 
Get the best advice, tips and top tech for your beloved Pets
Thank you for signing up to Petsradar. You will receive a verification email shortly.
There was a problem. Please refresh the page and try again.