Five fantastic videos for cats to watch on YouTube
These videos for cats are the perfect boredom busters to keep your feline friend engaged and their senses sharp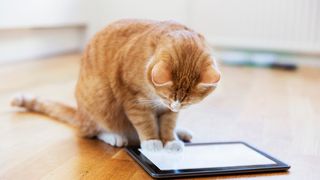 (Image credit: Getty)
Videos for cats is a phenomenon that's been taking the world by storm this past year as more pet parents search for fun ways to keep their felines entertained indoors. Whether it's mice, squirrels, or birds, YouTube is full of cute and engaging animal antics that will have your kitty in a state of rapture.
While you're probably already well versed in the basics of looking after your feline furkid, from filling their bowl with the best cat food to making sure they have a comfortable bed to curl up in at night, videos for cats can be a great way to recreate the thrill of the outdoors on days when your kitty needs to be indoors.
Just like the best cat toys, videos provide mental and visual stimulation to help keep your furkid's senses sharp and ward off boredom, and an animal shelter study found that they can be particularly beneficial for cats that spend a large amount of time alone or those who don't have access to a window.
If you're worried that time spent in front of the screen might do your kitty damage, you'll be pleased to know that watching videos won't do your cat any harm. Dr. Jillian Orlando, a veterinary behavior resident at the North Carolina State University College of Veterinary Medicine is putting pet parent's minds to rest. "It won't hurt your kitty's eyes," she says reassuringly "so you don't have to tell Fluffy not to sit too close to the TV."
While you don't need to worry about your cat's health, you may want to pay attention to the safety of your TV. "If your cat is really intent on 'hunting' the television, don't let her watch the TV unsupervised. And if you have a large flat screen, mount it to the wall, in case kitty decides to take the leap," warns Dr. Orlando.
In much the same way that indoor games for dogs can help ease boredom for our canine companions, videos for cats can do the same thing. With so much choice on YouTube, we've made your search quicker and easier by choosing our favorite videos for cats that your feline friend can watch when they're in the mood for a little nature adventure.
Best video for cats overall
Paul Dinning is one of YouTube's most prolific posters of videos for cats and his "Eight Hours of Birds and Squirrel Fun" is a true epic of the genre. Despite the title, the photographer from Cornwall captured almost nine hours of British garden birds and the occasional grey squirrel popping in and out of frame to grab a snack from a bird table.
Best mouse video for cats
This 21 minute video from www.tvbini.com features a top-down view of a furry little fella munching on nuts and seeds. Cats will love watching him dart in and out of view before chowing down on the goodies, and owners will love reading the comments.
Best bird video for cats
Another effort from the cat video powerhouse, Paul Dinning, this 18 minute film is shot in beautiful high-res and features the woodland birds of Tehidy Woods. Some reviewers have even remarked that it had their cats looking behind the iPad in search of feathered friends to pounce on!
Best fish video for cats
The Boredom Blasting Fish Video for Cats premiered on YouTube back in April 2019 and has since clocked up an impressive 206,492 views, figures many a budding influencer would trade a limb for. With a two hour run time, the video features a selection of koi and discus fish paired with a relaxing ambient soundtrack.
Best abstract video for cats
Another effort from www.tvbini.com features 14 minutes of sparkling orbs criss-crossing a black screen. While it doesn't sound particularly interesting to humans, it seems to go down very well with feline critics judging by the YouTube comments from their owners.
Dave has 20 years experience in publishing during which he launched many successful magazine titles including How It Works, All About Space and All About History. He's also the proud pet parent to a partially paralysed, retired police dog named Vinnie. When he's not busy giving Vinnie the love and care he deserves, Dave's the Editor in Chief on PetsRadar.
Get the best advice, tips and top tech for your beloved Pets
Thank you for signing up to Petsradar. You will receive a verification email shortly.
There was a problem. Please refresh the page and try again.