Best Christmas cat toys: From low cost to high tech
16 great ideas for Christmas cat toys to treat the feline in your life this festive season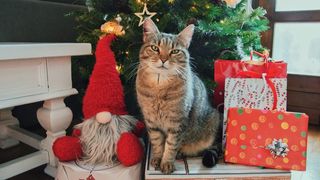 (Image credit: Getty)
'Tis the season to spoil your pet! There's a whole range of Christmas cat toys out there to choose from, so we've scoured the web to find the most fun, stimulating, and exercise-inducing toys we can for your favorite furry friends. If you are wondering which cat toys are best for your cat, then we've got some inspiring ideas for you.
Cats are notoriously choosy about what they want to play with, so it's usually best to have a couple in stock so you can hide them away and rotate them so boredom and disdain turns to curiosity and re-discovery. Of course, you don't need to splash the cash to entertain your cat, as our guide to DIY cat toys you can make at home proves, but cat toys are often so cheap, you won't need to break the bank to keep them distracted from attacking the baubles on the Christmas tree.
A great Christmas cat toy will capitalize on your cat's love of hunting, chasing, and pouncing. Whether it's a toy you want to use to play with them yourself, or one to keep them entertained while you are out of the house, we've gathered together a whole range of budget, festive, interactive, and automated cat toys to suit any budget. Go on, treat the feline in your life with our top picks.
Festive-themed Christmas cat toys
Want your cat to have something under the tree so they can open a real Christmas-themed present at the same time as the rest of the family? Here's a couple of Christmas-themed cat toy gifts to get everyone, including your furry friend, in the Christmas mood....
Budget Christmas cat toys
Not looking to spend a fortune on your Christmas cat toys? Here's a few suggestions for toys to treat your kitty with which won't break the bank...
Laser Christmas cat toys
Lasers mean loads of fun for your furry friend, as cats love to pounce on flitting dots of light. Here are a couple of suggestions...
Catnip-filled Christmas cat toys
Nothing keeps a cat interested in a toy longer than catnip. The smell drives them crazy, and will keep them coming back for more...
Automated Christmas cat toys
Want someone to play with your cat when you're not there? Buying your cat an automated cat toy this Christmas means there's something moving around to play with, even if you are visiting relatives during the holidays. Here are a couple of ideas...
Interactive Christmas cat toys
If your plan is to get your kitty to get some exercise this Christmas period, then investing in an interactive cat toy is the way forward. Toys that react when they play with them are often a lot more engaging than static toys...
Tech Christmas cat toys
Really feel like raiding the kitty to spoil yours? Here are a couple of high tech Christmas cat toy ideas (not including the world's most expensive techie cat toy, which is, of course, the iPad):
Other cat Christmas gift ideas
If you aren't sure that a toy is the right gift for you cat, there are some other ways to treat your fluffy friend. Why not get them a dedicated scratching post, a new comfy bed or a hammock to stretch out in: