Best luxury cat bed: Comfortable cribs for your feline
Pimp your cat's pad with the best luxury cat beds and allow them to sleep in style
Included in this guide:
1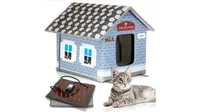 Petyella
Heated Cat House
2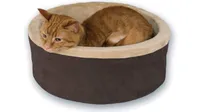 K&H
Thermo-Kitty Heated Bed
3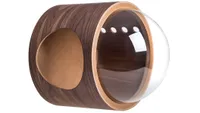 MYZOO
Spaceship Gamma
4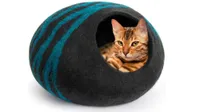 Meowfia
Premium Felt Cat Cave
5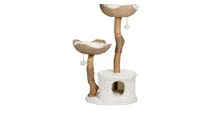 Mau
Lifestyle Modern Cat Tree Tower
6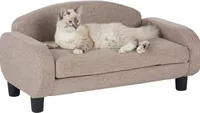 Paws
& Purrs Modern Pet Sofa
7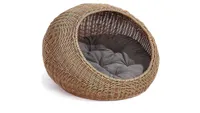 D+GARDEN
Wicker Cat Bed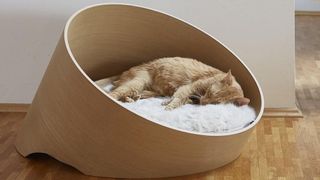 (Image credit: Getty Images)
Now, we know what you're thinking - a luxury cat bed sounds like it's going to set you back a whole lot of money, right? Well, granted, there are some luxury beds out there that are expensive, but you might be surprised to learn that many of our favorites will give your kitty that 5-star feeling for a lot less money than you might expect.
But first things first. Before we get into the cost, you might be wondering why you should forgo our standard pick of the best cat beds and opt for a luxury option instead, which is a good question. Believe it or not, the word 'luxury' isn't just a label that gets slapped on a bed to bump up the price, these designs truly do have something more to offer.
First up, and perhaps most importantly, these beds are designed to be extra comfortable, which is particularly worth noting if you have a senior cat or one who struggles with mobility issues or joint pain. Several of the beds in this guide can be heated, so they're great for helping to reduce bodily aches and the pain associated with arthritis.
Just like the best luxury dog beds, luxury cat beds are also made with higher quality materials than your standard cat beds. Materials like Merino wool are soft, supple, and breathable, keeping your feline cool in the summer and warm in the winter. Others opt for stunning wood designs that will beautifully blend with your home décor and look more like a work of art than a cat bed!
If you're tired of multiple cat accessories cluttering up your living space, you'll even find luxury cat trees that can replace the a good cat scratching post while also offering ample sleeping space. And while there are a couple of picks in this guide that sit at the higher end of the price scale, most luxury cat beds are incredibly affordably priced and won't set you back that much more than a regular bed would.
With that in mind, let's take a look at our favorite luxury cat beds. From wall-mounted and sofa-style options to heated pads and eco-friendly buys, you're guaranteed to find something to suit even the fussiest feline.
PetsRadar's pick of the best luxury cat beds
Best overall luxury cat bed: Petyella Heated Cat House
Best budget luxury cat bed: K&H Thermo-Kitty Heated Bed
Best wall mounted luxury cat bed: MYZOO Spaceship Gamma
Best eco-friendly luxury cat bed: Meowfia Premium Felt Cat Cave
Best cat tree luxury cat bed: Mau Lifestyle Modern Cat Tree Tower
Best sofa-style luxury cat bed: Paws & Purrs Modern Pet Sofa
Best wicker-style luxury cat bed: D+GARDEN Wicker Cat Bed
Petyella Heated Cat House
Best overall luxury cat bed
Weatherproof: Yes | Waterproof: No | Indoor/Outdoor: Yes
Can be used indoors and outdoors
Protects your cat from cold weather
Extension cord and plug-in timer
Rain can get in the opening flaps
We're in love with this adorable heated cat house from Petyella, and we're pretty sure you and your cat will be too. If you're tired of cat beds that look like, well, cat beds, then this high-quality Swedish beauty that resembles a dollhouse is bound to be a talking point with family and friends, adding a touch of whimsy to any indoor or outdoor space.
This weatherproof house can be used in barns, porches, garages, or balconies, as well as indoors, and provides your cat with a snug and warm place to sleep – perfect on those cold winter nights and frost-laden mornings.
You'll love that the heated mat comes with a 1m chew-proof cord, and there's also an extra 3m extension cord, which is great if you're wanting to position the house in a space that's not close to a power socket. And if you're not one for wasting energy then you'll be pleased to know that you can set the plug-in timer to control when the mat is heated.
The cat house is easily assembled in four steps and is portable so if you like to take your cat on holiday with you, then this bed can travel along with them. We also love that it comes with a 100% cozy cat money-back guarantee, so if your kitty gives it the paws down you can easily return it for a refund.
Now, as much as we think this is quite possibly the cutest cat bed we've ever seen, it does have one drawback. While the roof is water-resistant, the house itself is not completely waterproof and if left out under the stars, heavy rain may cause water to seep in through the opening flaps. Still, we reckon placing this house under a covered area on wet nights is a small price to pay for owning the luxury cat bed we've deemed the best on the block.
K&H Thermo-Kitty Heated Bed
Best budget luxury cat bed
Size: 20 x 20 x 6 inches | Material: Polyurethane foam and polyester | Machine washable cover: Yes
Energy efficient
Designed for 24/7 use
High walls for privacy
Not suitable for very large cats
Okay, so including a budget item in a piece about luxury cat beds may seem a bit strange, but this heated bed from K&H is proof that quality and luxe living doesn't have to come with a huge price tag.
Designed to be used indoors and all year round, this thermo-kitty bed has a 4-watt dual thermostat heating unit buried into the orthopedic foam base, so not only is this a super comfortable bed for your cat, but an economical and energy-efficient purchase for you.
Once switched on, the bed works by heating to around 10-15 degrees above room temperature, allowing your cat to sense the warmth. When in use, the bed warms to your cat's body temperature, ensuring a safe and comfortable temperature, and the high walls and soft, fluffy pillow create a warm and cozy hideaway.
You'll love that this bed is a snap to clean; simply unzip the zipper on the base, remove the foam walls and cover, and pop on a gentle cycle in your machine before line drying. Available in two stylish colors, this bed will suit almost any home decor, and the one year warranty offers great peace of mind.
The only cons for this great thermo bed are the high walls, which may not be great for some cats to rest their head on, and the size of the bed, which won't accommodate large cats like Meine Coons. But those drawbacks aside, this is luxury living at a budget price.
MYZOO Spaceship Gamma
Best wall mounted luxury cat bed
Size: Diameter 15.74" x 18.7" | Material: Plywood | Easy to clean: Yes
Available in Oak or Walnut veneer
The 4 side air holes prevent the glass from fogging up
Fun and stylish
May require two pairs of hands to assemble
Send your furry astronaut back to the future with this sleek and minimalist wall mounted cat bed. The purrfect accessory for the ultra-modern home, this space-saving design comes in a choice of Oak or Walnut veneer, and is a great option for compact apartments or homes where floor space is in short supply.
Allowing your cat to watch the world go by from their very own observation deck, the side air holes prevent the acrylic glass dome from fogging up and helps reduce any echo. Cool in the summer, the spaceship acts like a greenhouse in the winter; simply pop a cushion or blanket inside, and the glass helps trap the heat keeping your kitty nice and warm.
Created after years of designing, field-testing and remodeling, the MYZOO Spaceship Gamma has proved a hit with reviewers who rave about the quality craftsmanship. While not included in the price, we love that you can separately purchase a set of wall-mounted cat shelves that act like stairs and can help your kitty get in and out of this spaceship with ease.
The one downside to this bed is you may find it hard to assemble on your own, so having an extra pair of hands will make the job much easier. That small inconvenience aside though, this durable design provides a safe and comfortable place for your cat to soak up their surroundings and snooze the hours away.
Meowfia Premium Felt Cat Cave
Best eco-friendly luxury cat bed
Size: 16 x 16 x 10 inches | Material: Merino wool | Machine washable: No
Safe and eco-friendly materials
Repels odor, dirt, and stains
Soft yet durable
Not machine washable
Transport your kitty to Kiwi-land with this soft and snuggly luxury cat bed made from 100% New Zealand Merino wool. The cave-like design offers security and warmth, and the flexible material can also be folded down into a regular bed, making this a versatile buy that will suit any sleeping preference.
Individually handcrafted in Nepal in an eco-friendly practice that uses no chemicals or synthetics, this is a great choice if you're looking for a bed that's kind to your cat and the environment. The spacious design is perfect for cats of all sizes, and the wool is dense enough to withstand any attacks made by your kitty's claws.
Merino wool is known for being soft, supple, and breathable, and does an excellent job of helping cats stay cool in the summer and warm in the winter. Each bed is molded from a single piece of fabric, making for a durable design where you don't have to worry about seams fraying or stitches bursting.
You'll love that this cat bed comes in a variety of colors to suit your cat's personality and the decor of your home, and your cat will love feeling snug as a bug in a rug while they snooze. It's hard to find fault with this chic little hideaway, but if we had to point out something it would be that it's not as convenient to clean as other cat beds, taking 12-14 hours to completely dry after delicate washing. Still, given that Merino wool is antibacterial and naturally repels odor, dirt, and stains, we have a feeling your time spent at the laundry sink will be minimal.
Mau Lifestyle Modern Cat Tree Tower
Best cat tree luxury cat bed
Size: 24 x 18 x 46 inches | Materials: Rattan and wood | Easy to clean: Yes
Beautiful design
Removable cushions
Multi-purpose
Not as affordable as other cat trees
If you're looking for a piece of art to adorn your living space that also doubles up as a cat bed and scratching post, then look no further than this beautiful design from Mau Lifestyle.
While this luxury cat condo may not be the cheapest one on the market, it's certainly the smartest with its stunning wood and wicker materials that combine to create a unique look that will have your family and friends talking for all the right reasons.
The two trunks are beautifully crafted and hold two hand woven wicker baskets that contain comfortable and cozy cushions that are removable and machine washable. At the base is a cat cave for those days when your kitty is in need of some privacy and there's also two scratching posts to keep their claws in tip-top condition.
There's no doubt that this cat tree is an investment, but it's been built to last and we love that you can also purchase replacements for any part of the tree that eventually gets worn. Sturdy and durable, this is a gorgeous cat accessory that we highly recommend if your budget can stretch to it.
Paws & Purrs Modern Pet Sofa
Best sofa-style luxury cat bed
Size: 31.5"W x 19.5"D x 15.5"H | Material: Plywood, foam, wood | Machine washable cover: Yes
Choice of stylish colors
Excellent longevity
Space for two cats
White sofa shows dirt easily
Let your kitty laze in the lap of luxury with this stylish sofa that comes with 3" thick padded foam cushions for the ultimate in comfort. Available in oatmeal, gray, or sand with espresso-colored legs, this sophisticated sofa will blend in beautifully with the decor of your home.
With overall dimensions of 31. 5" W x 19. 5" D x 15. 5" H and seat dimensions of 25. 5" W x 17" D, this sofa will comfortably hold two large cats. The cushion has a removable zipper cover for easy cleaning and the sofa weighs just 18 pounds, making it easy to maneuver.
While it's not the cheapest cat bed on the market, this sofa is made from plywood, foam, and wood, creating a strong and durable product that offers great longevity.
D+GARDEN Wicker Cat Bed
Best wicker-style luxury cat bed
Size: 19.5 x 15.2 x 12.5 inches | Material: Polyresin | Machine washable cushion: Yes
Stylish
Spacious for cats up to 20lbs
Good value for money
No catnip to attract fussy felines
This stylish wicker cat bed can comfortably accommodate cats up to 20lbs and will blend beautifully into any home decor. It's ideal for any kitty that likes a semi-enclosed sleep space, offering privacy at the sides and back while being open enough at the front to still allow them to feel like they're part of the family.
Embedded in the dense woven rattan is a metal frame that makes this bed incredibly durable and robust and inside you'll find a soft plush cushion that measures 14-inches in diameter and 3.5-inches in thickness, perfect for your feline friend to snuggle up on.
Unlike igloo-style beds that can have quite small openings, the front of this bed has a 13-inch opening that allows plenty of space for your kitty to get in and out. It's also a breeze to keep clean as the rattan can be hosed down to remove dust and debris and the cushion is machine washable.
One of the most elegant luxury cat beds we've seen in a while, the pricing is impressive for the quality and it's also available in a large version if you have a bigger breed of feline fur baby.
How to choose the best luxury cat bed
When choosing a luxury cat bed for your favorite feline fur baby, there are a few things you're going to want to consider.
Give some thought to the size, age, and temperament of your kitty. Cat caves and condos are great for small to medium-sized breeds, and those that are younger or of a shyer disposition where feeling safe and secure is likely to be important.
For larger breeds or more outgoing and adventurous cats, lounges and cat trees that allow them to sprawl out in the open with lots of room to move around are a great option.
If your cat has mobility issues then avoid beds with high sides, unless you're prepared to add in a ramp, and instead opt for beds that are easy to access. Heated beds are great for cats with arthritis, as the warmth can help ease joint pain, and they're also a perfect choice if you have an indoor cat who sleeps a lot and likes to feel warm and cozy.
If you're going to be investing a lot of money in a luxury cat bed then check how easy it is to wash and keep clean. Look for cushions and carpets that are detachable and can be machine washed, and surfaces that can be wiped down. Durability is important as you want to get as much bang for your buck as you can, and if you're buying a cat tree or a bed with accessories, it's worth noting if these are replaceable.
Finally, the best thing about purchasing a luxury cat bed is choosing a design and style that fits with your home's decor. Most beds come in a variety of finishes and colors, so whether you're after cute or contemporary, fun or futuristic, you're bound to find one that fits both your style and your cat's personality, purrfectly..
Kathryn is a freelance writer with a passion for creating health and wellness, travel and wildlife content. Originally from New Zealand, her nomadic lifestyle has her currently fur baby-less. She scratches her pet parent itch by stealing frequent cuddles with any neighbourhood cat kind enough to indulge her.
Get the best advice, tips and top tech for your beloved Pets
Thank you for signing up to Petsradar. You will receive a verification email shortly.
There was a problem. Please refresh the page and try again.