Seven truly outrageous Christmas gifts for pets
These ostentatious Christmas gifts for pets will spoil your furry family members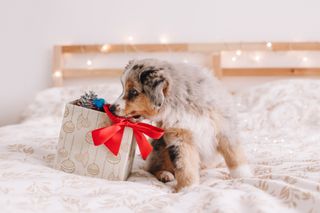 (Image credit: Getty Images)
If you love to spoil your furbaby, these Christmas gifts for pets are exactly what you need. For extravagant gifts that will excite your pet and potentially confuse your family and friends, look no further than this list.
Maybe the best dog toys or the best dog bed doesn't quite cut it, and you're looking to go all-out for Fido this year. Or maybe your cat is a princess and you really want to spoil her. That's what we're here for, with a special list of the most expensive, extravagant, jaw-dropping Christmas gifts for pets that could certainly be considered unnecessary. But is it unnecessary to shower your pets with extravagant gifts more expensive than ones you may be for humans? We don't think so.
PetsRadar's most extravagant Christmas gifts for pets
1. Piccolocane Crea Wagon Dog Stroller
The Crea Wagon Dog Stroller is the Lamborghini of the pet-pushing world – a sturdy aluminum buggy designed for the poshest of pooches. A waterproof canopy ensures your four-legged friend will stay warm and dry, and there's a built-in folding ramp designed for mutts with mobility issues. A mesh window at the rear of the stroller has been added to allow dogs' owners to maintain eye contact with their pampered pets, and a one-touch folding system means it can be quickly folded away if your dog decides to hit the road.
£844.95, petsownus.co.uk
2. Hecate Verona pet house
Sure a mortgage is expensive, and rent isn't cheap, but your dog deserves a mansion, right? Maybe your pooch is perfectly happy sleeping at the foot of your bed or using a discarded blanket as a bed on the hardwood floor. But how amazing would it be if they had a giant pet house like the ones from Hecate Verona, which sounds like a character from a novel from one of the Brontë sisters? Billed "the most exclusive dog mansions in the world," you'd be giving your pooch a home that would certainly make the rest of the dog park visitors jealous - if they ever came over, that is.
The mansion has a separate area and living room, heating, air-conditioning, and beautiful lighting. There are oak, marble, and Swavorski crystal elements to make these homes extra elegant, and Hecate Verona provides a variety of models to choose from, like the Colonial Villa, the Roman Imperial mansion, and the Spanish Palacio. All of the models look like an AirBnB vacation home that would run you in the thousands - just like these Hecate Verona dog houses, actually.
Is this necessary? No. Is it absolutely fascinating? For sure.
From £2,000 to £169,000, hecateverona.com
3. Chelsea Dogs Luxury Leather Cube Bed
If your mutt's a fan of minimalism, start saving for this stylish pet bed – a leather cube with a circular indent in which your dog or cat can doze. The bed, which has a beechwood frame, has been made with the finest European leather, and is available in four colors and three sizes (including a super-sized extra-large, designed for bigger breeds). It has been treated with a finishing process that lends an unbelievable softness, minimizing the risk of chaffed, irritated undercarriages. God forbid.
£795, chelseadogs.com
4. Lords and Labradors Dog Crate in Balmoral Mulberry Tweed
Does your terrier or tiggy need some time out? Point them in the direction of this curtained cubby hole, and they can unfurl the drapes and shut out the wider world for an hour or two. Padded sides ensure maximum comfort, and the thick Tweed material will keep nasty, fur-ruffling breezes at bay. There's a huge range of sizes, starting from small and ending with extra extra large (far be it from us to discriminate against big-boned dogs), and the material is surprisingly low maintenance – the inner cushion has a waterproof lining, and the cover can be thrown in the washing machine.
£330.95, chelseadogs.com
5. Cloud7 Medium Waxed Tartan Dog Coat
You'll want to make sure your pooch steers clear of puddles if he's rocking this particular dog coat, which has a wonderfully warm fleece lining and Velcro patches which allow it to be slipped on easily and quickly. In fact, we think your canine companion might even be able to master fastening it himself. In a nutshell, it's the perfect outfit to slip on for special events, romantic sessions by roaring log fires, and occasional (note occasional) autumn walks.
£130, libertylondon.com
6. Max Bone Wellness Shampoo
When budget shampoo just won't cut it, lather up a storm with Max Bone's Wellness Shampoo – a fragrance-free formula made with organic passionfruit, bran oil, and aloe. It has been formulated to gently cleanse your pet's fur without causing greasiness or irritation, helping to create an experience that (according to the blurb on the website) you can both enjoy – despite the fact that it's highly likely your pet will make a beeline for the biggest, stinkiest puddle seconds after emerging from the bath tub.
£65, maxbone.com
7. Moncler dog jacket
Whether your dog's planning to hit the slopes or not this winter, this ski jacket-inspired coat is the must-have addition to his winter wardrobe – a Fair Isle print-covered dog gilet with a detachable hood, stylish V-neck, and easy-wearable pullover style. The downside? It's dry clean only, but then again, if you're spending almost £500 on a dog jacket, we doubt a doggie dry cleaning bill will push your bank balance into the red.
£468, saksfifthavenue.com
Get the best advice, tips and top tech for your beloved Pets
Tamara Hinson is a freelance writer who grew up with huskies but unfortunately now has a husband who is allergic to dogs. Luckily she has a neighbour who lets her dog-sit her Maltese terrier and a nearby greyhound rescue centre where she can walk the residents.