German Shepherd rescued after 12-foot fall in California
A game of hide and seek took a turn for the worst after a German Shepherd had to be rescued from a 12-foot hole in California, US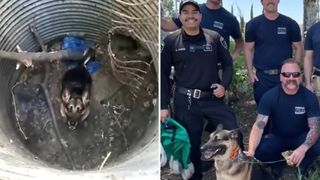 (Image credit: Instagram / Fontana Police Department)
A playful pup found herself in a spot of bother after accidentally plunging down a 12-foot hole, leading to an expertly carried out German Shepherd rescue.
The curious canine, named Lexi, is reported to have been playing hide and seek with her owner in the Californian city of Fontana, located in The Golden State's San Bernardino County.
The story unfolded in a video posted on social media by the City of Fontana Police Department.
In the clip, the uncertain pup can be seen patiently waiting at the bottom of the 12-foot hole. To get her out, a member of the fire service was lowered down to reach Lexi, before wrapping her up and winching her to safety.
In a post written on Facebook, the county's police department said that the "Animal Service Officers immediately asked for backup, and our wonderful [local] firefighters assisted in rescuing Lexi from the large hole."
The post went on to read that "the owner was extremely grateful that her fur baby was unharmed" in this incident.
Fontana Police Department applauded the efforts of both the ASO (Animal Service Officers) and San Bernardino County Fire department in the rescue and many people have agreed with them.
Courtney Wise shared her thoughts over on the City of Fontana Police Department's Facebook page: "It must be in the name. So grateful the pup wasn't hurt and was able to be reunited with her family."
"What a happy ending! Thanks for sharing", commented Emily Hammerand.
But the post did leave some users with more questions than praise such as Virginia Garland who commented "Good Lexi make it home. Now my concern: where is the hole and what if a human fell into it?"
The specific location, along with details on exactly how Lexi got herself into this pickle, have yet to be shared.
Either way, now that this playful pooch has been reunited with her owner, a spokesperson for the Fontana Police Department has confirmed that Lexi is doing just fine after her ordeal.
Get the best advice, tips and top tech for your beloved Pets
Chloe is a freelance writer, editor, and proofreader, who has more than ten years' experience in creating animal-focussed content. From National Geographic to Animal Planet, Chloe's passion for creating fact-filled features all about wildlife and the environment is evident. But it's not just wild animals that Chloe's fascinated by. Having written more than 75 articles for PetsRadar - and having her very own four-legged friend by her side - it's no wonder that her love of dogs (and, of course, cats) has grown exponentially.
Her website, www.chloemaywrites.com, and social media pages - @ChloeMayWrites on Instagram, Facebook, and Twitter - showcase her knowledge through daily facts and trivia tidbits. For example, did you know that snails have teeth?!