How did Norris Nuts dog die? Fans grieve for YouTube star
Norris Nuts fans are in mourning after family breaks sad news about the death of nine week old puppy Bubba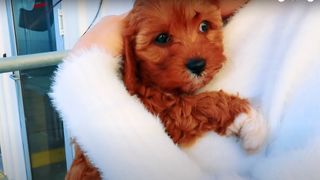 (Image credit: YouTube)
'How did Norris Nuts dog die?' is being googled like crazy at the moment and it's not hard to understand why. The Australian family and YouTube Stars Norris Nuts caused a stir on social media when they didn't release any videos for a couple of weeks. With over 5 million subscribers their absence was noticed, and it was with a heavy heart that they revealed the devastating reason for their time away from the cameras.
In an emotional video, the parents of the Norris Nuts, Brooke and Justin, revealed the sad news that the latest star of their channel, Bubba the puppy, had passed away due to a tragic accident. They had clearly battled with how to break the news about the loss of their beloved pet but felt it was best to just be honest about what had happened to Bubba and how they had needed to take two weeks off filming to make sense of it.
Bubba was a nine-week-old gorgeous Cavoodle puppy (a cross between a cavalier King Charles Spaniel and a Poodle) that the family was overjoyed to have brought into their family home. Although it wasn't clear exactly how the accident happened, the couple were clearly battling with the unexpected tragedy which the whole family witnessed.
Brooke explained, "Justin was in the wrong place at the wrong time – well the puppy was." Adding "It wasn't neglect or negligence. It was just an accident."
Justin added: "The kids saw the puppy die – so it sucked for everyone."
In the video, the couple professed their love for each other and said how the experience had made them more sympathetic to other people's trauma.
An outpouring of shared grief was evident in the comments of the video which has already been viewed over 2 million times. Fans wished the family well and expressed their sadness that the young puppy was gone.
kanishka commented, "I can't believe how the fun ended so fast...Fly high bubba...and know that the fans and the legends love u...<3"
That procreate tiktoker wrote, "I just watched the recent vlog and my heart dropped. Bubba was so young and had such a bright future ahead. Praying so much for you guys, and r.i.p bubba"
JanaOutloud added, "Fly high Bubba, you will be missed by all the legends and norris nuts. This is so sad."
To help celebrate Bubba's life, and to see how much the whole family clearly loved the puppy (despite initial misgivings!), it's worth seeing the joy from the whole family when they were first introduced to the adorable puppy.
Rest in peace, Bubba, and let's hope the whole Norris Nuts clan pulls together to deal with the tragic event.
Get the best advice, tips and top tech for your beloved Pets
Jamie Middleton is a freelance editor and writer who has been editing and creating content for magazines and websites for over 20 years. As well as writing about the pets he loves, he has helped create websites about tech and innovation like TechRadar.com, Innovate UK and TechSPARK, written programmes for music festivals, books on inventions and architecture, TV listings magazines, and edited publications about cars such as Lexus, Toyota and Jaguar. In his spare time he writes fiction books and poetry - or at least he does when he is permitted to by his cat Pirate, who enjoys the warmth of laptops too much to allow being creative to get in the way.