Twitter legend Sockington the cat has died aged 18
He had over 1.5m followers at his peak and now he's finally caught the red dot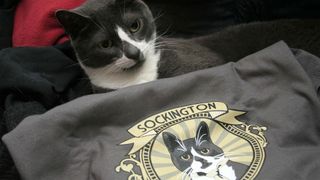 (Image credit: Jason Scott)
Sockington, the original social media celebrity cat, has died at the ripe old age of 18.
Known as Sockamillion or plain old Socks, the beloved Internet star joined Twitter back in March 2007 building up an impressive following that peaked at over 1.5 million followers. The famous feline had over a million followers at the time of his passing.
The news was confirmed by Sockington's human, computer historian and internet archivist, Jason Scott:
I'm sorry to report that @sockington had a downturn in health and is no longer with us. He was cared for every day of his dumb little life to the top standards of a celebrity cat and after 18 long years, he saw something really shiny in the clouds and decided to chase after it. pic.twitter.com/muj4qjPscoJuly 18, 2022
As Jason reports, Sockington had been battling health issues for a while; he had organ problems and a heart murmur and just last week was at the vets with kidney problems:
HAD A LITTLE MEDICAL VISIT you will all be glad to know food lady opted for extended socks license IN OTHER NEWS APPARENTLY ONE OF MY KIDNEYS NEEDED A REBOOT pic.twitter.com/EaqS8anzJQJuly 13, 2022
Sockington had an impressively long and exciting life; a grey and white Domestic Shorthair, he was found as a stray outside a Boston subway station in 2004 before being adopted by Scott.
His light-hearted Twitter updates (back in the days when you could only Tweet 140 characters and it was near-impossible to Tweet photos) quickly saw him become a social sensation, with a million followers by 2009, and his own line of t-shirts.
Following the news of his passing, Twitter users have been paying tribute to this remarkable cat:
TW // Pet DeathAw man not Sockington… the life of this silly little cat was honestly one of my first follows on this app. Sending all the sympathy to the Socks Family and Socks Army. 😢 https://t.co/deaTfjuQm3July 19, 2022
❤️❤️ Sockington was the reason we joined Twitter 10 years ago.. ❤️🌈🕊 https://t.co/dG3DHii1FGJuly 19, 2022
People Magazine's 2011 Yearbook: "A feline with a strong personality, Sockington, by May, had 1.5 million Twitter followers (or about triple the number of Tom Cruise)." pic.twitter.com/af3xRFk7GLJuly 19, 2022
You have to respect any cat with more Twitter followers than Tom Cruise. And while it's a sad day for Twitter cat-lovers, Jason Scott's staying positive, with a lovely suggestion on how you might want to pay your own respects to Sockington:
If you want to pay proper testimony as a member of socks army, please consider adopting a shelter cat and naming it sockington. Middle name of Sockington acceptable. Reply with photo of Sockington. pic.twitter.com/V3j8wrYBJJJuly 18, 2022
And while Sockington himself is gone, you can find snapshots from his life in this Flickr gallery, and his Twitter account remains as a tribute, complete with this delightful update:
What greater reward is there for being the best cat? RIP Sockington.
Get the best advice, tips and top tech for your beloved Pets
Jim is a writer, performer and cat-wrangler based in Bath, who last year adopted a pair of sibling rescue cats who turned out to be effectively feral, and has spent a lot of time since then trying to get them accustomed to people (some success) and each other (ongoing project).