Introducing the dog shelter that takes in unadoptable dogs
We find out about the dog shelter taking in the unadoptable dogs most in need of a loving home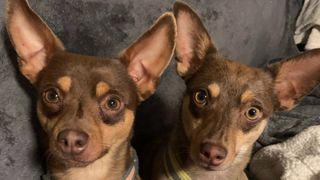 (Image credit: Erin Ohlendorf)
It's a sad fact that some poor pooches are considered unadoptable dogs and never find a loving home. Some have had such bad upbringings or traumatic experiences that even dog shelters don't always take them in.
That's why the story of Grateful Dogs Rescue will warm your heart. Operating out of the San Francisco Bay area, it was founded in 1990 by Michelle Parris, a volunteer at SF Animal Care & Control, where she saw a number of dogs who were deemed 'unadoptable' – either because of behavioral issues or because they needed prohibitively expensive surgery – and ultimately ended up being euthanized.
Determined to save as many dogs as she could, Michelle set up Grateful Dogs Rescue with the aim of fostering these so-called 'unadoptable' dogs in loving homes before moving on to their permanent homes. In addition to being on the board of directors, Erin Ohlendorf provides one of these homes, currently for brothers Timmy and Morty (more on them later).
"Our ethos is that any dog who is on the non-adopt list, and slated for euthanasia if not taken in by a rescue, are the ones we concentrate on. Especially the hard-to-adopt ones with more severe behavioral issues or medical conditions," she says.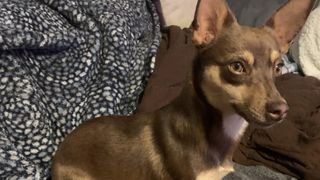 "I've had Timmy and Morty since February 2021," says Erin. "Where dogs would normally be in and out of foster homes in less than a month, we really take the time to rehabilitate and find the best homes for them. Some of these dogs are really quirky and need to find the right person who will love their quirks instead of just dealing with them. What we really want is to put the dogs in the best home for the long term," she says.
"A lot of the rescues out there take the cute or easy to adopt ones so they can get through them quicker, but we set ourselves on helping those who need it the most – we've paid over $10,000 for surgeries."
Another fact of fostering hard-to-adopt dogs is that they tend to need fostering for longer. Where other dogs are re-homed in as little as a few days, this isn't the case here.
Grateful Dogs don't always get the full story of what happened to the dogs before. That's the case with Timmy and Morty, who found themselves in Erin's care after initially being separated.
"They came in a set of three – they have a sister – and we expect that they came from a hoarding situation because they're so little socialized. We separated them into single homes, but Timmy and Morty did really poorly – they were shut down, cowering, shaking, and not wanting to interact with humans. The sister seemed to be doing well, so we decided to put them back together. When Timmy and Morty got back together, they were doing much better."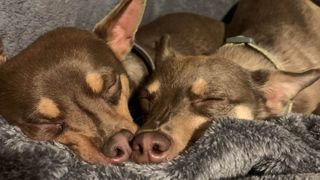 While Erin clearly knows what she's doing, she still faced difficulties. "While they like to be in your presence, they don't like to be touched or petted, you can't pick them up, which makes normal things really tough. You can't take them on a walk because you can't put them on a leash, and if you do get them on the leash they don't move because they're so scared. Normal things, such as going in and out of the door, are scary for them, so I have to coax them out with treats and kind words. Over time, I've been able to get them more comfortable.
"I saw a good amount of improvement within the first two weeks, and then within the first month or two, they started to come out of their shell and become more willing to cuddle up with me or let me pet them. I've gotten to the point where I can actually pick up Timmy. I've also been able to trim a few of their toenails!"
Currently, Grateful Dogs take in about 100 dogs a year, although the COVID-19 pandemic has hampered recent efforts somewhat.
"The ability to actually get dogs has gone down quite a bit," says Erin. "There was a huge surge of volunteers to be foster parents, so much that we didn't have enough dogs to offer them. Physically going to the place and getting the dog has changed dramatically – we used to be able to go in and meet the dogs, evaluate their temperament, and test them out with other dogs. Now it's a lot stricter – we mask up, sanitize, go in, get handed the dog, and go. And the people allowed to go in have become a lot more strict. Previously I took my husband with me, but now it's just one person. It's become very clinical."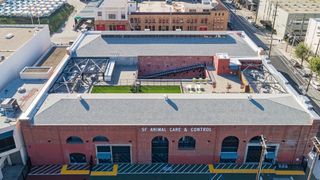 Despite the difficulties posed by the pandemic, not to mention the issues posed by the dogs themselves, Erin has no regrets, drawing on the pleasure and positive experiences that both fostering and working with Grateful Dogs has given her.
"It's like having a new pet every few months, and I get to learn about new dogs, and be able to feel that love and enjoyment for each different personality. And then the ability to share that love and joy with new people. And then of course the ability to save lives. These dogs haven't done anything wrong, they're not bad dogs, and the ability to give them a second chance at life is super fulfilling.
"With Grateful Dogs in general, I'm truly connected on an emotional level with our goals to save the worst of the worst dogs. I've worked with other places that don't take on those dogs because they don't have the resources, volunteers, or capacity. Being able to take on the dogs that need the most care is super fulfilling, so I'm proud to be able to continue that for this area."
Do you want to help Grateful Dogs Rescue? Buy something from their wishlist at Chewy
Get the best advice, tips and top tech for your beloved Pets
Steve writes and proofreads buying guides, news stories and advice for Pets Radar, drawing on his lifelong experience as a pet owner. Currently sharing his house with two cats and a dog, he draws on the many highs and occasional lows of pet ownership he has borne witness to in his writing. He has worked in publishing for 15 years as an editor, sub editor and writer on a range of titles, such as SciFiNow, How It Works, All About History, Real Crime and Horrorville. You can follow him on Twitter @stevewright22