Is this Pit Bull the world's happiest dog?
Former rescue dog is going viral with a smile that could only mean she's the world's happiest dog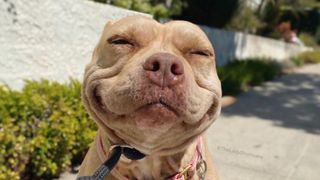 (Image credit: Instagram: @theladyshortcake)
One lovely lady is vying for the title of world's happiest dog since she has a permanent smile on her face!
Lady Shortcake is a 6-year-old Californian rescue pit bull whose owner fell in love with her at first sight thanks to her sweet smile. Now the whole world is falling for her happy little face too!
This smiley pup didn't always have much to grin about. Found by Animal Control walking the streets of Fresno, she was suffering from a hernia and sever mange. After being taken in by Fresno Bully Rescue her now owner, Amy Matsushima, saw a video of her at the local vet and was instantly enamoured.
According to IHeartDogs, Amy explained: "She looked miserable but she was wagging her tail and she did have that little smile on her face.
"It just hit me in my heart and I was like, 'Oh, I have to meet this dog.'"
Since being rescued, her skin conditions healed and her little smile has transformed to a great big beam from ear to ear as she's come out of her shell and fully settled into her forever home.
According to Amy, Lady Shortcake is a big fan of naps – often flashing her grin in order to avoid walks and continue her snoozes – and adores cuddles and playing. Amy reveals that she can't make Shortcake smile on cue though – but that hasn't stopped her from amounting a vast number of Instagram followers with her cheeky grin and a healthy helping of fancy dress costumes and mini adventures.
It's still a mystery to Amy as to why Lady Shortcake smiles to much, but we are sure glad she does!
Get the best advice, tips and top tech for your beloved Pets