Is your dog one of the most intelligent breeds in the world?
The American Kennel Club lists the planet's smartest dogs, from sheepdogs and bloodhounds, to poodles and papillons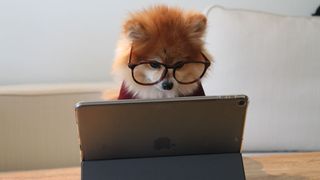 (Image credit: Unsplash)
Pretty much all dogs are intelligent, but which ones are considered the smartest? To answer that question, the American Kennel Club (AKC) has produced a list of what it has classed as the smartest breeds of dogs on the planet.
The AKC, a recognized and trusted expert in breed, health, and training information for dogs, compiled the list using its 135 years of experience, combined with breed profiles, as well as historical information. That information included anything from the dog's country of origin, to its temperament, to the jobs they were bred to do.
So, without further ado, here's the list of the world's smartest dog breeds (in no particular order):
American Leopard hound
American Staffordshire Terrier
Appenzeller Sennenhund
Australian Cattle Dog
Australian Kelpie
Australian Shepherd
Azawakh
Barbet
Belgian Malinois
Belgian Sheepdog
Belgian Tervuren
Berger Picard
Bloodhound
Border Collie
Briard
Chinook
Doberman Pinscher
German Shepherd
Golden Retriever
Labrador Retriever
Papillon
Miniature Poodle
Standard Poodle
Toy Poodle
Rottweiler
Russian Tsvetnaya Bolonka
Shetland Sheepdog
Is your dog on the list? If not, don't worry. That doesn't mean yours isn't intelligent. As Brandi Hunter from the AKC explains, "Most dogs are smart, but in different ways. Working breeds learn how to perform jobs quickly because of their instincts and natural abilities, while other breeds are motivated based on their strong desire to please."
How important is intelligence to dog ownership?
If you are considering adding a dog to your family you shouldn't make intelligence a main deciding factor – as with great brainpower, comes great responsibility.
"People should choose the breed that best fits their lifestyle," says Brandi Hunter. "It's not about the IQ of the dog, it's about the ability to best care for the dog and finding one that suits your lifestyle.
"They should look at its temperament, how it is to live with and traits that would affect dog ownership," Hunter says. "Smart IQ dogs require a lot of mental stimulation, so a smart dog might not be the best for your lifestyle, because they need to be active and have a job to do."
So it seems smarts alone don't automatically make a good pet. And besides, you can train most dogs to bring out their cleverness, it's just a case of investigating the natural traits of your dog and using them to best understand whether they are likely to be a quick or slow student. It's down to you to make the clever choice.
You can see more information about each breed on the AKC's website.
Get the best advice, tips and top tech for your beloved Pets
Jamie Middleton is a freelance editor and writer who has been editing and creating content for magazines and websites for over 20 years. As well as writing about the pets he loves, he has helped create websites about tech and innovation like TechRadar.com, Innovate UK and TechSPARK, written programmes for music festivals, books on inventions and architecture, TV listings magazines, and edited publications about cars such as Lexus, Toyota and Jaguar. In his spare time he writes fiction books and poetry - or at least he does when he is permitted to by his cat Pirate, who enjoys the warmth of laptops too much to allow being creative to get in the way.