Kitten ambush! Man finds 13 kittens on the side of the road after expecting to rescue only one
Robert Brantley tried to save one kitten and ended up with a 13-strong litter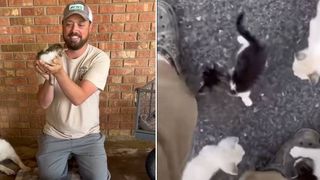 (Image credit: TikTok / Robert Brantley)
When a driver noticed a lone kitten on the side of the road, he instinctively knew what he needed to do.
Robert Brantley, from Louisiana, promptly paused his journey, turned back round, stopped and quickly found a single white and gray tabby – yet he wasn't prepared for what happened next.
After calling the baby feline over and picking him up to film on his phone, he noticed three more meowing kittens appearing from the nearby grass.
"Oh, my gosh!," he says, clearly startled. "I can't take ya'll. Oh, my gosh!" It was then that even more kittens began to appear, heading straight towards Brantley.
"Oh, my gosh, there's more," he continues. "We got a kitten problem. Who would do this? I thought I was saving one. Hot diggity dog."
Within seconds, the 37-year-old found himself with 13 kittens congregating around his feet. He then decided to do the right thing and rescue the lot!
This was easier said than done. As he tried to pop each one into his Honda hatchback, the kittens would jump back out again. He ended up winding down the windows and keeping the doors closed, realizing they'd be too small to leap out.
Brantley believes the kittens had been abandoned because he could not find the mother cat. He is now in the process of finding good homes for them all, although he's looking to keep two or three for his own family.
Since the moment went viral on TikTok, courtesy of a user called Lauren René Allen, Bentley has been inundated with offers. The video, based on Brantley's Facebook post, has been viewed more than 20 million times. Another video on Twitter has been seen a further million times.
Brantley and his wife, Courtney, have since posted more footage of the kittens being given a bath and laying in a cart.
update_on_the_13_kittens_that_ambushed_this_man from r/aww
Get the best advice, tips and top tech for your beloved Pets
David Crookes has been a journalist for more than 20 years and he has written for a host of magazines, newspapers, websites and books including World of Animals, BBC Earth, Dogs and Canines, Gadget and The Independent. Born in England, he lives in a household with two cats but he's also keenly interested in the differences between the huge number of dog breeds — in fact, you can read many of his breed guides here on PetsRadar. With a lifelong passion for technology, too, he's always on the lookout for useful devices that will allow people to spend more time with their pets.