Pet parent shares touching moment her Labrador comforted Prince Harry and Meghan
When the dog-loving royal couple spotted Louis at Windsor Castle, they wasted no time in showing him some attention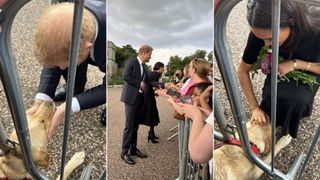 (Image credit: Twitter / Sarah Gracie)
It's been a hard week for the Royal Family following the death of Queen Elizabeth II, but amid all the public mourning there have been some heartwarming moments along the way, too.
Prince Harry and Meghan, like so many members of the Royal Family, are dedicated dog-lovers who've adopted a number of rescue pups in recent years.
Harry and Meghan's dogs include a black Labrador Retriever named Pula and Beagle called Guy, and more recently they adopted Mamma Mia, a seven-year-old rescue Beagle.
So it's no great surprise to learn that when they spotted a well-wisher's Labrador at Windsor Castle this week, they wasted no time in going over to give him a good old pet.
When our little pup Louis met Meghan and Harry as we paid our respects to The Queen #QueenElizabeth #HarryandMeghan #Windsor pic.twitter.com/OLkhW6gcaUSeptember 10, 2022
His name's Louis, and his human, Sarah Gracie, had taken him along to Windsor Castle with her as she paid her respects to the Queen, and they happened to be there just as Harry and Meghan were out on a walkabout and greeting well-wishers.
But what she didn't expect was just how taken the royals were with her pup, and they both paused to give a clearly delighted Louis some welcome attention.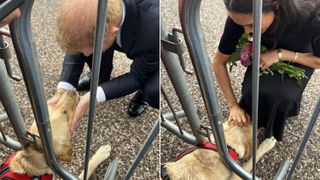 Labradors are intelligent and affectionate dogs, so it's no surprise just how well Louis took to being petted by royals, and Sarah's shots of Louis having his own little royal encounter have quickly gone viral and attracted plenty of admiring comments.
Sarah says, "We witnessed a really beautiful moment at such a difficult time for them. Louis had the best day and is at his happiest when he is being cuddled, petted and surrounded by people."
Dreaming of good boy treats and cuddles! So proud of the happiness this beautiful face has brought to so many people 🐾🐾 the love of my life! Beautiful Louis #dogtwitter #labradors #royalpup pic.twitter.com/547HRgU9sTSeptember 13, 2022
And as you can see, Louis hasn't let his brush with royalty and sudden social fame go to his head. He's back home now, dreaming of treats and cuddles.
Get the best advice, tips and top tech for your beloved Pets
Jim is a writer, performer and cat-wrangler based in Bath, who last year adopted a pair of sibling rescue cats who turned out to be effectively feral, and has spent a lot of time since then trying to get them accustomed to people (some success) and each other (ongoing project).