Lexi the jumping dog takes social media by storm
Lexi the jumping dog proves that building a 6-foot fence does not guarantee your neighbor's privacy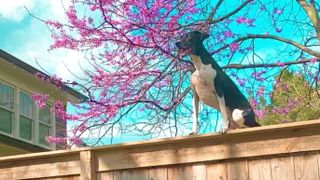 (Image credit: @lexithejumpingdog/Instagram)
Inquisitive dogs are nothing new, but when you've built a specially constructed 6-foot fence to keep your cunning canine from bothering your neighbors, it must be a little disheartening when they hop on to the top of it like there was nothing there.
Lexi's owner's exasperated face as he stands in front of the camera while Lexi bounces up and perches on his brand-new privacy fence to check out the surrounding neighborhood is a sight to see. And it's a sight that has had over 21 million views on TikTok already.
To add to the fun, the video features the soundtrack from a hilarious clip from the sitcom The Office, where the cast is attempting – badly – to recreate the parkour internet sensation. While Michael, Dwight and Andy don't do so well at their attempts, Lexi makes short work of scaling the 6-foot barrier, and people are loving it.
Eric O'Connell summed it up when he commented "When you think you have a fence, but your dog makes it an observation deck 😳"
While DivineAlchemist added "That's the kind of dog you want by your side during an apocalypse..."can I get an ETA on any approaching zombies?" 👀😅😂😂
Lexi is a Pointer mix, and as one TikTok user said, she's potentially a breed made up of half Pointer, half kangaroo!
Lexi's owner has taken his mistaken barrier investment in his stride though and is celebrating Lexi's impressive talent with some more funny posts. Lexi, it seems, is constantly using the fence as a springing board, so her owner has been having fun with the situation – all the while using his dour and impassive facial expression to counterpoint Lexi's high-energy escapology.
For example, Lexi absolutely nails it as Superman:
And in recreating the Circle of Life scene from the Lion King, albeit with creepy shining eyes:
To be fair to Lexi, the high-energy hound does respect the fence as a boundary as she never seems to jump down the other side, but as a way of affording your neighbors some privacy, it's clearly not working!
You can keep up to date with Lexi's further energetic exploits on Instagram too, as well as TikTok. Let's just hope the neighbors can be forgiving of this canine peeping Tom so Lexi can continue to entertain us!
Get the best advice, tips and top tech for your beloved Pets
Jamie Middleton is a freelance editor and writer who has been editing and creating content for magazines and websites for over 20 years. As well as writing about the pets he loves, he has helped create websites about tech and innovation like TechRadar.com, Innovate UK and TechSPARK, written programmes for music festivals, books on inventions and architecture, TV listings magazines, and edited publications about cars such as Lexus, Toyota and Jaguar. In his spare time he writes fiction books and poetry - or at least he does when he is permitted to by his cat Pirate, who enjoys the warmth of laptops too much to allow being creative to get in the way.