Lost dog with California tag turns up 5,600 miles away in German village
"Maybe the dog went in search of some bratwurst"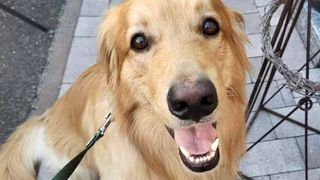 (Image credit: Facebook / Gilroy Police Foundation)
Both German and Californian police were left baffled when a missing dog with a CA collar tag was found over 5,500 miles away in Europe.
While tales of dogs walking back to their old homes after they've moved away with their owners aren't always that uncommon – in 2020, for instance, a four-year-old Golden named Cleo walked almost 60 miles back to Missouri after she decided she preferred her old pad - police in Gilroy, California, were left scratching their heads after what seemed a completely impossible feat.
They got a message that a dog from Gilroy had turned up in a small village in Germany – 5,600 miles away!
Not only is that an impressive distance via paw power, it must also have involved some doggy paddling as the mileage includes the Atlantic Ocean.
Puzzled police posted on Facebook that while they weren't sure how the enterprising pooch had made it to Europe, they had located the owner.
They speculated that as there was a US airbase around 40 miles from the village, the owner may have been serving military personnel when his dog decided to go for a wander.
However, the story was updated shortly afterwards to reveal the truth.
"It looks like the dog is on summer vacation. His owner is from California and his mother lives in Germany. Maybe the dog went in search of some bratwurst." The Gilroy Police Foundation went on to add: "Moral of the story, good idea to license your dog. You never know where they might turn up."
Getting your pet microchipped is also a great idea, particularly if they're planning to leave the States and travel to Europe!
The gorgeous Golden looks completely uncontrite in his photo, grinning happily for the camera. Maybe he did get that bratwurst after all? We wish him and his owner a happy and panic-free vacation!
Get the best advice, tips and top tech for your beloved Pets
Sara is a freelance journalist and copywriter of many years' experience with a lifelong love of animals. She's written for a range of magazines and websites on subjects varying from pet care to travel. A horse rider since the age of five, she's currently a full time pet slave to horse Blue and gorgeous, goofy English Springer Spaniel Olly. Adorable Olly has a huge sense of adventure and no sense of direction, keeping Sara on her toes.