Meet the rescue dogs helping military veterans with PTSD – and how YOU can help
Life is better with a dog, but for those building a new life with PTSD, it can change things forever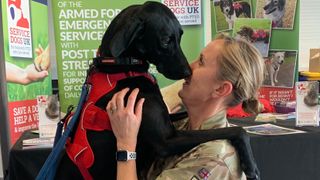 (Image credit: Service Dogs UK)
PTSD (Post Traumatic Stress Disorder) is a serious mental health condition that affects people in many different ways. It is the brain's way of responding to a traumatic experience or set of experiences.
Sadly, and understandably, many PTSD sufferers are military veterans who have witnessed active combat whilst serving in the Armed Forces. In recent years, it has been discovered that those working in the police, ambulance and fire services are also at risk of developing PTSD, as well as many other jobs dealing with extreme situations.
In a bid to help these individuals cope with their disabling condition, a charity called Service Dogs UK provides veterans from both the Armed Forces and the emergency services with specially trained assistance dogs. With the help of these dogs, veterans can start to deal with and overcome their feelings of isolation and depression, as well as regaining a sense of purpose and independence.
What is Service Dogs UK?
Service Dogs UK was founded in 2015 by Garry Botterill and Judith Broug – two individuals with a shared passion for improving the lives of veterans with PTSD. Since then, the charity has grown from strength to strength and, this month, they will be launching a new hub in Somerton, Somerset.
To be eligible for a Service Dogs UK assistance dog, applicants must be veterans who have served or are still serving in the British Armed Forces or the emergency services (including Coast Guard, RNLI and UKSAR). They must have a clinical diagnosis of PTSD and be based in West Sussex, Surrey or Hampshire.
Before any dog can be partnered with a veteran, they must be fostered for up to 12 weeks by local volunteers. The charity selects rescue dogs that are in need of a home filled with friendship and love, and are assessed before being paired with their veteran.
Once a veteran and their dog have been partnered together, the next stage is for them to take part in a nine-month PTSD Assistance Dog Programme, which teaches their new four-legged friend how to be an assistance dog. During this time, veterans will learn how to look after their dog, train them, and become responsible guardians under the careful guidance of the charity. This program comes at no cost to the veteran.
The benefits veterans receive from their dogs
PTSD is often described as a 'living hell' as it affects every aspect of that individual's and their family's lives. It can manifest itself with symptoms including flashbacks, which cause the person to relive the trauma, nightmares and paranoia, and suicidal feelings.
An assistance dog from Services Dogs UK can help a veteran suffering from PTSD to get out again and re-engage with the community, as well as give them a sense of pride and achievement, especially once they have completed the nine-month training program.
This is because assistance dogs can sense when their veteran owner needs them and are at their most vulnerable. They are trained to wake their owner up if they are having a nightmare, which in turn improves their sleep; they can respond to medical reminders; they can bring their owner back to the present in times of dissociation; and they can help counter panic, flashbacks and anxiety attacks.
What do the veterans think?
"I suffer from flashbacks, nightmares, and hyper-vigilance in public, so having a dog just gives me that focus and energy. Actually, it gives me that boost in confidence about being in public." Kerry, veteran Police Officer with her dog, Bert
"Starting to laugh and live again." Mark, Army veteran with his service dog, Jerry
"Service Dogs UK have had a profound effect on my 'day to day' life… Colt has given me the confidence to leave the house unsupervised." Steve M, with his dog Colt
How to support Services Dogs UK
The work that Services Dogs UK is able to do is only possible through the generosity, kindness and passion of others. The charity is supported through both financial donations and sponsorship. However, there are many ways to show your support.
Donating to Services Dogs UK
The money that people donate – no matter how big or small the amount – goes towards purchasing dogs from rescue centers, training them, and teaching the charity's volunteers how to become confident dog trainers.
There are lots of ways to donate to Services Dogs UK. Donating can be done as a one-off or monthly payment via JustGiving, PayPal, by text (simply text SERVICEDOGS and the amount e.g. 'SERVICEDOGS 10' to 70470), directly from your bank, or via check.
You could even set up a fundraising event for Services Dogs UK. From hosting a coffee morning or a book sale to conducting an organized dog walk or running a marathon, there are plenty of ways to raise money. Click here for some superb ideas the charity has put together.
For more details, visit Service Dogs UK
Get the best advice, tips and top tech for your beloved Pets
Chloe is a freelance writer, editor, and proofreader, who has more than ten years' experience in creating animal-focussed content. From National Geographic to Animal Planet, Chloe's passion for creating fact-filled features all about wildlife and the environment is evident. But it's not just wild animals that Chloe's fascinated by. Having written more than 75 articles for PetsRadar - and having her very own four-legged friend by her side - it's no wonder that her love of dogs (and, of course, cats) has grown exponentially.
Her website, www.chloemaywrites.com, and social media pages - @ChloeMayWrites on Instagram, Facebook, and Twitter - showcase her knowledge through daily facts and trivia tidbits. For example, did you know that snails have teeth?!