Military dog reunited with handler who saved his life to live out his retirement together
After a year apart, military working dog Akim has been reunited with his former handler on a permanent basis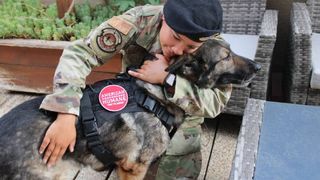 (Image credit: American Humane)
A year after parting ways, military working dog Akim has been adopted by his former handler, Senior Airmen Jenna.
Having served together in South Korea from 2020 to November 2021, training personnel, patrolling the base, and searching their vehicles, their bond was strengthened when Akim nearly died after swallowing a bee.
Suffering a severe allergic reaction, Akim was rushed to the base's vet by Jenna. She subsequently spent the next two days by Akim's side, and while his eyesight never permanently recovered, their bond was sealed, with Jenna also keeping an EpiPen on her at all times just in case Akim experienced a relapse.
After parting ways, Jenna expressed her desire to adopt Akim once he retired. This wish was granted, with American Humane (opens in new tab), a charity who specializes in providing free medical care for former military dogs, helping to transport him from South Korea to Albuquerque. New Mexico, where he was able to reunite with Jenna.
As you would expect, she is delighted to be back with him, and looking forward to the future they will share together.
"I want him to see everything," Jenna said in a statement. "I want him to experience the freedom of life. I want him to go in a river and go swimming and just live his best free life. He still deserves to see the world and get to have some fun."
Having helped make this a possibility, Dr Robin Ganzert, president and CEO of American Humane, said in a statement, "We at American Humane honor the lifesaving contributions of all veterans, including the four-legged military dogs who risk their lives to courageously serve our country.
"We are thrilled Akim will get the retirement he deserves, alongside the person who loves him most."
Steve writes and proofreads buying guides, news stories and advice for Pets Radar, drawing on his lifelong experience as a pet owner. Currently sharing his house with two cats and a dog, he draws on the many highs and occasional lows of pet ownership he has borne witness to in his writing. He has worked in publishing for 15 years as an editor, sub editor and writer on a range of titles, such as SciFiNow, How It Works, All About History, Real Crime and Horrorville. You can follow him on Twitter @stevewright22
Thank you for signing up to Petsradar. You will receive a verification email shortly.
There was a problem. Please refresh the page and try again.