Cat that looks like a lemur raises eyebrows on social media
A rare huge and fluffy cat that looks like a lemur has commenters wondering if it's even a cat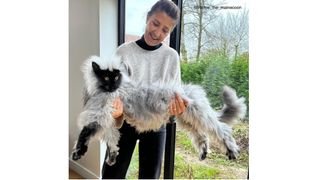 (Image credit: Instagram / @richie_the_mainecoon)
A video showcasing a very unusual cat that looks like a lemur has caused a sensation on social media as people tried to work out what kind of animal Richie is.
The striking feline is certainly a sight to behold with gorgeous black fur on its face and legs topped with a white and grey coat of shaggy hair.
His owner, Adriana Piraino who lives in France, posted a video of Richie to Reddit where commentators were quick to share their surprise – to the tune of 3900 comments.
Remarks like "I feel like this cat will be able to talk, but only in riddles," by @notkhaldrogo and "It Looks like a cat trying to wear a slightly larger cat costume," by @Classyharvey show just how otherworldly Richie looks.
"This thing was born in Jim Henson's Creature Shop," @Sheezy520 commented.
Measuring almost a meter, this gentle giant has been compared to a lemur, a yeti, Momo from The Last Avatar and David Bowie!
In fact, Richie is a black smoke variety of the Maine Coon breed, one of the oldest natural breeds in North America – although he's a particularly majestic one.
Adriana rehomed Richie during the pandemic, and when she started sharing images and videos of his antics on Instagram, his distinctive looks quickly garnered the @Richie_the_maincoon account over 125,000 followers.
Adriana told Newsweek: "People started to take an interest in him when he developed his fur. His fur grew in a few days. Like a coat around him, he transformed into an animal that was just as strange as it was cute. He started to go viral on social media. People went crazy for him."
"After sharing just one video of Richie on Instagram it went everywhere in one fell swoop on and I counted more than one million views."
Adriana is as taken by Richie as his fans: "Like my followers, I'm just as surprised at how Richie has grown up. I have never seen such a cat. People ask me a lot of questions but I don't know exactly how and why Richie is like that."
Now 11 months old, Richie is taking his fame in his large stride. Adriana says, "Now my vet recognizes Richie, like a popstar. Veterinarians are studying him. I think it's the only Maine Coon with such a fur."
However, looking after a Main Coon cat does not come without its problems. "He needs a lot of care," she added. "If he goes outside, for example, I have to clean his fur which catches all the dirt.
"I brush him whenever he needs it and he enjoys it. This type of cat requires a lot of time and attention."
Get the best advice, tips and top tech for your beloved Pets
Jamie Middleton is a freelance editor and writer who has been editing and creating content for magazines and websites for over 20 years. As well as writing about the pets he loves, he has helped create websites about tech and innovation like TechRadar.com, Innovate UK and TechSPARK, written programmes for music festivals, books on inventions and architecture, TV listings magazines, and edited publications about cars such as Lexus, Toyota and Jaguar. In his spare time he writes fiction books and poetry - or at least he does when he is permitted to by his cat Pirate, who enjoys the warmth of laptops too much to allow being creative to get in the way.