Watch: Monkey kissing a cat video takes social media by storm
Mesmerised macaque monkey kissing a cat delights the internet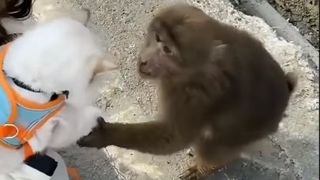 (Image credit: Instagram)
Cats are not known for making friends instantly, but one animal that clearly doesn't know this is a fascinated monkey shown in an adorable video that's doing the rounds on social media. It features a wild macaque which takes great interest when meeting a kitten for what is presumably the first time – and then does everything it can to make a personal connection with the confused kitty.
The video, which has already garnered 17,500 likes, shows the macaque approach the beautiful white cat in a state of clear confusion. It clearly isn't sure what the cat is, but is very keen to investigate.
First it tentatively tries to shake the cat's hand, and when the cat doesn't respond goes in to sniff this strange creature. Then, encouraged by the cat's owner, and after looking back at its monkey friends for support, goes in for a kiss.
Although the primate is very gentle in its approach and its interactions, the bewildered moggie turns away, and the macaque retreats, almost like a spurned lover, to its troop. You can see the endearing viral video which was shared by @naturre below:
Of course, wild monkeys can be very violent, prompting many commenters to point this out:
@sharonsutterlin said "That was dangerous but cool at the same time."
However, they are only usually aggressive when aggravated, and it was clear this was not the case here. In fact, if anything, the monkey's loving and gentle actions won over many viewer's hearts:
@ana_bdealmeida said "Showing more tenderness than many human beings! 😍" While @sohail_shadab read even more into it: "I felt like his was looking for [if] his wife [was] not around😂".
It's rare to see two such different creatures interacting, and despite the kitten's initial scepticism, we hope that this is the beginning of a beautiful friendship.
Get the best advice, tips and top tech for your beloved Pets
Jamie Middleton is a freelance editor and writer who has been editing and creating content for magazines and websites for over 20 years. As well as writing about the pets he loves, he has helped create websites about tech and innovation like TechRadar.com, Innovate UK and TechSPARK, written programmes for music festivals, books on inventions and architecture, TV listings magazines, and edited publications about cars such as Lexus, Toyota and Jaguar. In his spare time he writes fiction books and poetry - or at least he does when he is permitted to by his cat Pirate, who enjoys the warmth of laptops too much to allow being creative to get in the way.