Muddy Paws Rescue pairs shelter dogs with NYC-based fosters
It's Dog Rescue week, and to celebrate we're highlighting rescues like New York City-based Muddy Paws Rescue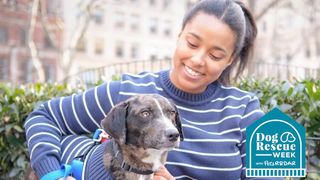 (Image credit: Muddy Paws Rescue)
Muddy Paws is a foster-based rescue that pulls dogs from shelters across the country and gets them into homes in the New York City area. With no physical location, Muddy Paws Rescue relies heavily on the kindness of its volunteers and foster parents to help place dogs pulled from shelters in Kentucky, George, Texas, and the NYC-based Animal Care Centers. How does a rescue like that work, and what can you do to help support it? We found out everything about Muddy Paws Rescue and its incredible rescue stories thanks to an email exchange with marketing director Mallory Kellery.
Muddy Paws Rescue was founded by executive director Rachael Zierling after she volunteered at another New York City-based organization. Zierling recognized an opening in the rescue community, "more life-saving opportunities became apparent where short-term fostering dovetailed with the lifestyle of many New Yorkers," writes Kellery. Simply put: New Yorkers would step up to rescue dogs, especially when it was a short-term foster situation.
As a result, Muddy Paws became a foster-based organization, with no physical location in New York City. "We can only save as many dogs as we have available foster homes," writes Kellery, and the rescue pulls from partner shelters in Georgia, Kentucky, and Texas. What's important is acclimating these dogs to the hustle and bustle of a city lifestyle, so that they can adjust to their new lives in a comfortable manner. Muddy Paws' foster network is an impressive one (Kellery calls it "thriving") that has allowed the rescue to pull hard-to-place dogs that often don't get a second chance. That means larger breeds, special needs dogs who may suffer in a shelter environment, and elderly dogs from the ACC. With a network of over 1,500 fosters, Muddy Paws has an impressive squad of dog rescue superheroes.
Muddy Paws Rescue has four main goals:
Maximize lifesaving through informed, transparent action
Cultivate a supportive community that ensures inclusion, encourages open discussion, and inspires positivity
Provide educational resources, tools, and guidance to improve quality of life for all dogs and their humans, wherever their paths may cross
Innovate continuously to ensure an ever-relevant rescue model
To achieve these goals, Muddy Paws Rescue conducts transports from the south up to New York every month and makes sure those newly rescued dogs are microchipped, up-to-date on vaccines, and have a clean bill of health. Those dogs go right into shelter homes in the New York area, rather than getting put into yet another shelter situation, which is often very stressful for dogs.
While COVID-19 has hit us all hard, there was a "silver lining" for rescues like Muddy Paws, according to Kellery. "We saw a massive increase in the amount of people who wanted to adopt, but also who wanted to foster and volunteer. We hope that the interest continues to grow as life starts to return back to normal."
With so many dogs coming through their rescue, Kellery assures me that "every puppy and dog has a story, and so much love to give." If you live in the area and want to become a foster for Muddy Paws Rescue, head here to fill out the application. If you've been considering adopting, there's no better time than now. Take it from Kellery: "We encourage everyone to make adoption their first option when considering adding a pet to the family. These dogs end up without a family often due to no fault of their own, and they deserve all the love in the world. Big dogs, older dogs, very young puppies - all rescue dogs are amazing and make amazing pets."
Dog Rescue week means celebrating the success stories and educating potential adopters about the wonders of dog rescue so that even more success stories can be told.
Do you want to help Muddy Paws Rescue? Buy them something from their wishlist at Chewy
Get the best advice, tips and top tech for your beloved Pets