Ouka the flying dog loves going paragliding with his owner
It's not a bird, it's not a plane, it's a… flying dog?!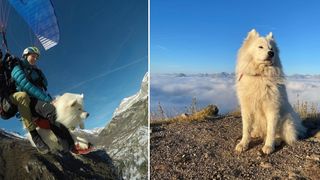 (Image credit: Instagram / @ouka.sam)
For this fluffy Samoyed, being known as the flying dog is completely normal! A video that shows three-year-old adopted Ouka taking to the skies has gone viral on social media, with close to 200,000 likes on the Insta post.
Captured and shared by filmmaker Shams, the cool clip shows the pair paragliding over the beautiful Col du Granon, in France. And Ouka looks pretty cool about the whole thing, too!
Strapped into a custom-made paragliding harness, the pair have only been working on their flying (and, of course, landing) skills for a couple of months but seem to be incredibly at ease up in the air.
"We did it. After only two months with me, I built a trust big enough between Ouka and me to bring him in the air with me," Shams explained on the Instagram page he started so that he could share his adventures with his new beloved pooch, called @ouka.sam.
"One year ago I would never [have] thought my life would have been in the darkest mood I ever been, and neither that I would have a dog and fly with him!!!"
"Ouka has been the biggest positive thing that [has] happened to me [for] many months… I am trying my best to give Ouka his best life, and he is helping me a lot to make me smile again."
In an interview for British broadcaster, BBC, Shams discussed how this brave sport of leaping off cliffs came about in the first place.
"The first thing I noticed is that Ouka is not afraid of heights," he said. "For example, when we go hiking, he was standing super [close to] the edge of the cliff."
But Ouka's sporting abilities doesn't stop at paragliding. This energetic pooch can be seen mountain hiking, camping, and paddleboarding.
Although, with that said, paragliding with your pooch shouldn't be something that you attempt without the correct training first.
Get the best advice, tips and top tech for your beloved Pets
Chloe is a freelance writer, editor, and proofreader, who has more than ten years' experience in creating animal-focussed content. From National Geographic to Animal Planet, Chloe's passion for creating fact-filled features all about wildlife and the environment is evident. But it's not just wild animals that Chloe's fascinated by. Having written more than 75 articles for PetsRadar - and having her very own four-legged friend by her side - it's no wonder that her love of dogs (and, of course, cats) has grown exponentially.
Her website, www.chloemaywrites.com, and social media pages - @ChloeMayWrites on Instagram, Facebook, and Twitter - showcase her knowledge through daily facts and trivia tidbits. For example, did you know that snails have teeth?!