Paraplegic Mastiff wins hearts by ditching her wheelchair
Mastiff Dixie, who has no back legs, runs around on her front paws demonstrating an unbreakable spirit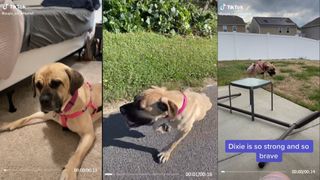 (Image credit: Tik Tok - pups_on_wheels0)
Paraplegic Mastiff Dixie has won hearts through videos shared by her owner Brittany Huyser on social media platforms TikTok (pups_on_wheels0) and Instagram (pups_on_wheels).
The videos show Dixie enjoying a full life, opting not to use a wheelchair as she did before her rear legs were removed in 2019.
A common question Huyser receives is 'does she use a wheelchair', which she explains in an Instagram post: "She does have a wheelchair, however after amputation, she no longer likes to use it. She would rather walk on her own."
Like any good underdog story, five year old Dixie has an unbreakable spirit with a big smile and lolling tongue in every video, which likely accounts for the 115k+ follows on Instagram and 34k+ followers on TikTok.
Mastiffs are an ancient breed of dog, historically used for protection and guardianship of livestock and families. A fully grown male can be expected to stand 30 inches at the shoulder and weigh up to 230lbs. They are loyal and personable dogs, who despite their size are known for being gentle giants.
Dixie is the perfect embodiment of Mastiff loyalty, initially described as shy by her foster family, she's shown Huyser nothing but affection from the moment they met.
"The foster parents said she was very shy but she wasn't at all. She let me pick her up and play with her. She was warm, loving and playful," she said.
Canine paralysis, which Dixie was born with, is usually due to an issue with the spinal cord or brain that disrupts nervous system communication between the two.
It can come on suddenly and at any age due to injury, but in Dixie's case was congenital. She is also incontinent and usually wears a diaper, with Huyser saying she expresses Dixie when needed.
Huyser explains in another video that Dixie still had her legs when she was first adopted, but after repeated bone infections they were eventually amputated.
Videos of Dixie before the amputation show her playing happily and running around dragging a wheelchair behind her and wearing a diaper.
Get the best advice, tips and top tech for your beloved Pets
Lou is an experienced writer and keen dog lover who works at PetRadar's sister site, LiveScience. When Lou isn't covering health and fitness, she's busy spending time with her family dogs or growing all kinds of veggies and flowers on her allotment.