New Netflix movie 'Rescued by Ruby' is tribute to real-life hero shelter dog
Meet the real life dog whose heroism in the field inspired the Netflix movie 'Rescued by Ruby'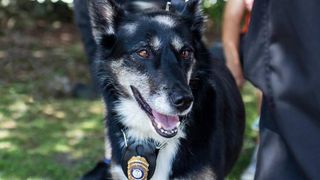 (Image credit: Facebook / @RhodeIslandStatePolice)
If you're a sucker for an animal movie, then you'll love the new offering from Netflix, 'Rescued by Ruby'. It's the story of a shelter dog who was within hours of being euthanized and went on to join the police K9 unit and become a hero. There's an extraordinary twist to the tale, as well, so no wonder Netflix pricked up their ears.
Like many dogs who find themselves in shelters, Ruby didn't get the best start in life. She was taken in by the Rhode Island Society for the Prevention of Cruelty to Animals, and rehomed and returned five times due to over-exuberant behavior.
Fortunately, dedicated shelter volunteer Patricia Inman didn't give up on her wayward charge and recommended her to Corporal Dan O'Neil of the Rhode Island State Police. She knew that the highly intelligent pup, a mixture of two working breeds, needed a job to do and was probably not suited to being a pet.
Meanwhile, O'Neil was keen to join the Police K9 unit but kept being rejected. Eventually, with the help of his sergeant Matthew Zarrella, he found Ruby, just two hours before she was due to be euthanized as unadoptable.
In 2011, the one-year-old Border Collie/Australian Shepherd cross Ruby was officially adopted by the police and joined the K9 service. It wasn't straightforward though – Ruby's difficult behaviors had to be slowly and patiently overcome with consistent training and affection.
Now the twist. In 2017, Rhode Island's Gloucester Police Department received a call to alert officers that a young teenager had been missing for over 36 hours and his parents were frantic. Ruby and O'Neil sprang into action and located the boy after a six-hour search.
When they met the boy's mother at the hospital, she turned out to be no other than Patricia Inman, the shelter volunteer who had fought so hard to keep Ruby from euthanasia. Ruby recognized Pat immediately and kept jumping up to lick her.
Ruby's heroism led to her being awarded 'Search and Rescue Dog of the Year' by the American Humane Hero Dog Awards. She's now into her 11th year as an official state trooper, has her own badge and is still going strong.
The movie, which stars Grant Gustin as O'Neil and two rescue dogs, Bear and Shiloh, as Ruby, is due to air on Netflix on March 17.
In the movie trailer, a shelter volunteer warns O'Neil, "She's a handful. She's too high strung, she chews, she digs, she steals food, she never sleeps, she's not even house broken."
O'Neil replies: "I like a challenge. She's going to be the first shelter dog to make a canine unit."
His words came true in spectacular style, and he hopes Ruby's story will inspire others to adopt from shelters.
The movie was premiered at a special viewing for the Rhode Island Police on Monday 14, and yes – Ruby did attend!
Get the best advice, tips and top tech for your beloved Pets
Sara is a freelance journalist and copywriter of many years' experience with a lifelong love of animals. She's written for a range of magazines and websites on subjects varying from pet care to travel. A horse rider since the age of five, she's currently a full time pet slave to horse Blue and gorgeous, goofy English Springer Spaniel Olly. Adorable Olly has a huge sense of adventure and no sense of direction, keeping Sara on her toes.