Giant fluffy dog takes over flight and the crew can't stop petting him
Ritchie the Great Pyrenees is granted special access to flights, despite his lovably large size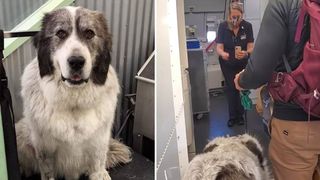 (Image credit: Instagram / @ritchiethepyr)
Boarding a flight is generally a pretty exciting experience in the first instance, but you probably don't expect to see a giant fluffy dog take over your flight and cause a 'delay' due to receiving lavish amounts of love and attention from the crew.
Ritchie, a Great Pyrenees, is typically found over on his Instagram account being lovably large and getting involved in all sorts of worldly adventures with his owner, including accompanying her on skiing trips and enjoying sunny holiday vacations, leaving many sharp-eyed fans to question "How do you get him on the plane?"
In a recent video posted to the platform, however, that very question was answered when the giant fluffball can be seen making his way onboard a flight, much to the delight of the crew.
While you may expect that a giant dog would not be welcomed to fly, the doggo becomes somewhat of a celebrity on the flight with even the pilot spoiling the dog with plenty of cuddles and even giving his new 'co-pilot' his very own hat to wear.
"The day my dog delayed a flight" the caption reads, but it seems no-one is particularly upset at the arrival of this VIP (Very Important Pup!)
In fact, the staff onboard can be seen snapping away on their phones to get a good picture of the fluffy guest before he squeezes his way past the other passengers and down the aisle to find his allocated spot.
Liked by over million Instagram users, it's clear that netizens were as equally delighted by the dog's presence on the plane.
"I'm absolutely ok with this kind of delay," wrote @jankitty2017. "He can sit next to me any time. Love the special treatment he got from crew!!" commented Milo the Underdog.
"The days we have pets as passengers are the best day! Specially when passengers let us take pictures of them!" shared another Instagram user.
Turns out Ritchie has a little secret to getting on flights that not every pup has in their favor: he's actually a service dog, which explains why he's able to access all areas!
Get the best advice, tips and top tech for your beloved Pets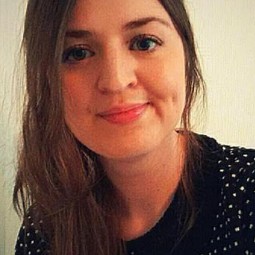 Ashleigh is Digital Editor on PetsRadar. With over 8 years of experience in print and digital media, she has acted as an editorial lead on a variety of projects, with animal themes a keen interest. As an avid animal lover, you can often find Ashleigh checking out the newest trends in animal care or looking at cute cat videos on TikTok.