Secret the Australian Shepherd shows off her latest creative trick
This clever canine is also being famous for doing yoga, playing the guitar and helping out with the washing!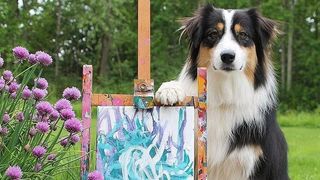 (Image credit: Instagram / @my_aussie_gal)
Some dogs are too talented for words. Not content with doing yoga and helping out with the laundry, Secret the Australian Shepherd dog is back, this time painting a flower.
It's not every doggy who can moonlight as an impressionist painter, and unsurprisingly Secret's artistic talents have been a massive hit on social media.
Proud owner Mary posted this caption on Instagram: "Secret drew a sunflower! Or maybe it's a daisy?"
"We've been having a lot of fun working on painting different shapes and brush strokes lately, and she's getting to the point where she can make recognizable shapes on her own without targets. This is her first, and I'm so proud of her!"
With over 200,000 likes in just one day, Secret's canvas creation is also quickly garnering plenty of comments.
"O... M... G... She's the sweetest and most talented dog on this planet!!" @yvoonka wrote.
"So beautiful and she is the most amazing and talented dog I have ever seen" @rruhaa___ly commented on the social media platform.
We're sure the artwork from this four-legged painter is going to be in great demand, so we're glad she signed it with a trademark pawprint.
But this is just the start of Secret's talents. While most dogs go out of their way to fetch the ball, Secret is happy to fetch in the washing!

Wouldn't it be great if all dogs could help out round the house like this? As Mary posted, "We did some laundry together this morning! It's amazing how anything can be fun when you're doing it with a friend".
But it's not just getting the laundry out of the dryer and closing the door that has made over 190K fans click on the Like button, Secret drags the laundry basket through to the bedroom and helps put the clothes away too!
Of course, doing the laundry can be exhausting, so Secret understands the need to stretch and relax, so she joins her owner for yoga sessions to wind down. We love the way she rolls out her own mat:
And what better way to relax than having a quick jam on the guitar as well? Secret's skills know no bounds!
You can keep up with Secret's talented exploits on Instagram by following @my_aussie_gal, and we can't wait to see what she will impress us with next.
Get the best advice, tips and top tech for your beloved Pets
Jamie Middleton is a freelance editor and writer who has been editing and creating content for magazines and websites for over 20 years. As well as writing about the pets he loves, he has helped create websites about tech and innovation like TechRadar.com, Innovate UK and TechSPARK, written programmes for music festivals, books on inventions and architecture, TV listings magazines, and edited publications about cars such as Lexus, Toyota and Jaguar. In his spare time he writes fiction books and poetry - or at least he does when he is permitted to by his cat Pirate, who enjoys the warmth of laptops too much to allow being creative to get in the way.