Meet Simon the adventure cat and his human JJ Yosh
Simon the adventure cat has become a viral sensation due to his unusual hobbies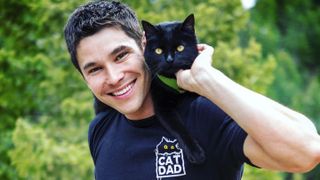 (Image credit: Facebook / Simon the adventure cat)
They say dogs are a man's best friend, but perhaps the purrfect pal is actually a feline. Simon the adventure cat (aka @backpackingkitty) is a six-year-old black Bombay cat who adores hiking and backpacking with his influencer owner JJ Yosh (@JJYOSH ), and his internet fame is quickly looking to overtake that of his human's!
JJ adopted the kitty in 2016, when he was just a baby, and immediately started to take him out and about on his outdoor jaunts.
"I started taking him on every single adventure that I went on," JJ explained. "He loves being outside."
The cat dad was inspired to take him on his hikes due to his love of the outdoors and a concern for his pet's safety in his home of Boulder, Colarado.
"If you want to have an outdoor cat here, you're really chancing it in terms of like how long they're going to survive," JJ said. "There's so many chances for them to get eaten or attacked."
While most people would be content with a house cat, JJ is an active outdoor enthusiast, so he made sure his furry friend could enjoy the great mountain air too.
"I love how he is so curious about the world around him," JJ continues. And for a cat as curious as Simon, he couldn't have a better partner in crime than JJ.
"We mostly do day hikes on the trails near Boulder," JJ explained to Zenger News. "Animals are allowed in some wilderness areas, so I have to make sure before I go that I can bring Simon. Sometimes, I take him on longer hikes where we camp."
JJ has even taken his feline friend across state lines where the duo have kayaked and relaxed on the beach in the Florida Keys, sailed Clinton Lake in Kansas and white water rafted on the Sacramento River near Lake Tahoe.
With so many unusual hobbies – at least for a cat – it's no surprise that Simon has racked up almost 600K followers on his instagram. What can do you know who rock climbs, kayaks and white water rafts as well as high-fives, handshakes, kisses and hugs?
But when Simon has exhausted himself with his long list of talents, he enjoys crawling inside JJ's backpack and sitting along for the ride. "That's his preferred place," JJ told People. "That's how he became known as Backpacking Kitty because he backpacks on my back all the time."
And all that alone time with his human has resulted in a unique bonding between the cat and his human. "I never eat alone. He'll do anything to get a piece of food from me," JJ reveals.
"He loves eating shrimp. That's my favorite food, too. Whenever I'm eating it, Simon tries to take some. He also likes tuna and salmon sushi."
However, JJ revealed to Zeng that Simon isn't the best at his role as an influencer, often falling asleep on the job: "Sometimes, he will fall asleep when we are doing a video shoot, and it's hard to get him to 'act'!"
He also explains that his bud is often keen to check out the wilderness on his own: "Cats are escape artists. Simon is really good at getting out of his harness when we are outside, so you have to keep a close eye on them, even when they are on a leash!"
But despite this, JJ couldn't have found a better hiking buddy.
"In a lot of ways, he does feel like my kid. He is my soulmate and my guardian angel."
Get the best advice, tips and top tech for your beloved Pets